Toilet Brush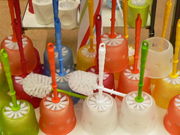 Australia
May 10, 2007 1:06am CST
I know that this is a weird subject, but why do people display their toilet brushes. They must me the dirtiest thilthiest things around, yet people display them like ornaments. There are novelty ones, stainless steel ones, wooden ones, double ones and the list goes on. Just curious.....
6 responses

• United States
10 May 07
What...doesn't everyone want the latest fashion in toilet brushes...??? I have no idea but it certainly is a good question...why would you want to show it off...to prove you have one...unless it's like Jimbo's no one will know if you use it...lol


• Singapore
16 May 07
Well, I don't know where you saw it but at least we don't lol. It's disgusting enough to brandish around carelessly. We just tucked them in a corner of the bathroom.

• Ireland
16 May 07
Do you have those things called oilet Duck in Australia? We have them here in Ireland and they are basically a plastic wand with a clip at the end. You have to buy refills, and once you have cleaned the toilet, you just release the clamp, the nasty bit falls into the toilet and then you can rinse the plastic part off and be done with it. The refills are a bit pricey, but it is worth it.

• Australia
15 May 07
I have a porcelain pig sitting in a squat position, he's dressed and his trousers are around his ankles and his face is screwed up cos he's straining. LOL. It was a birthday gift from my younger daughter one year. It appeals to my sense of humour. The brush sits behind him. I prefer the humour of him to an ordinary one. Let's face it, it's a required part of the loo and has to be handy in case it's needed. I also keep a magazine rack with joke books and IT magazines in there.