The Eurovision Song Contest... Vote for your friends?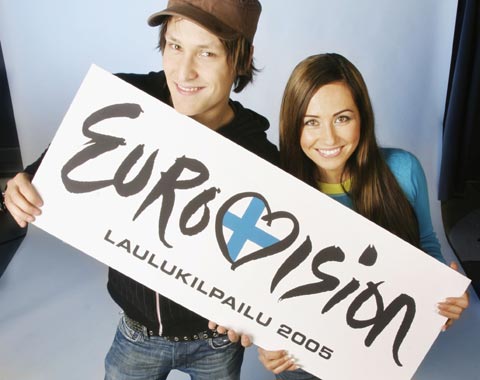 May 12, 2007 6:04pm CST
I just finished watching the Eurovision song contest, if you're not familiar with it or haven't heard about it before, it's a live song performance competition. A band from each country in Europe represents their country. After all the songs have been aired on TV every country that takes part has a chance to award points to the countries that they think deserved it. Scoring goes from 1 to 12 and the country with the most points wins. I have never watched it for its musical content, because most of the songs are pretty dire. Instead I watch it for the English broadcaster Terry Wogan, he comments on what is happening on screen while the show is going; he has been noted for his comical view of the competition. Since I can remember, the Eurovision song contest has never been about how good the songs actually are, instead voting seems to follow the political directions of each country. For example, Cyprus always vote for Greece, Scandinavian countries tend to stick together, and Eastern European countries vote for each other also. It seems to me that countries only vote for the people they have good relationships with, or people who threaten them. After a dismal joint second-to-last place for United Kingdom it left me wondering if we are ever going to get a vote again. Because the UK is an island with a pretty strong political existence in some things that people think is not right, the UK is not voted for. We do not really threaten anybody in Europe, and it seems that no countries are friends of ours. So our Eurovision song is guaranteed to be a failure. However, our Eurovision entries are never representative of what music our country has to offer, instead we offer the usual cheesy music which is expected at Eurovision. And this year was no exception, it was an abysmal song. But if we put some real music into the competition that would crash and burn like our country's reputation. What do you think?
2 responses

•
13 May 07
Well you have to admit our song was dire this year!!! But I do know what you're saying. Since Iraq, the British and Irish entries have received little or no votes, which kind of shows the depth of feeling against us for supporting Bush in that ridiculous war. And the Baltic/Balkan/Slavic "bloc" voting is pretty stupid. I do enjoy Eurovision though - it's an instituion - and fun! Mind you - I'm not sure Terry (who I adore) would take kindly to being called English. He is Irish and proud of it I believe:-))

• Australia
15 Aug 07
You aldo have to understand that for eg lets take the balkans each and every singer that represened any of the balkan countries is wll known to the rest of the balkans. Take Merlin from Bosnia he is a well known singer since way before the war and everyone from former yugoslavia knows him. Take the new singers like Severina (croatia), Zelko Joksimovic (serbia) Tose (macedonia) Karolina (macedonia) Martin (he is half serbian half macedonian) They all are well known singers in all those countries.