Tattoos...have one? want one? love them? hate them? let's talk!

United States
May 16, 2007 9:30am CST
Body art or tattoos as we commonly know them as are usually frowned upon by most people in the US who aren't into the Motorcycle thing. Their first thoughts are words like Harley, bikey, bikey chick, trailer trash and very colorful words like those. My Dad was in the Navy and he had a swallow on each side of his upper chest which I recently found out meant "news from home" to men serving on ships at that time, a pig and a rooster on the instep of each of his feet which was supposedly to guard sailors from drowing. He had a couple of others and they were all very tasteful as far as I am/was concerned. What I don't think most people realize about is that body art goes back to the year 2000 BC with the Egyptians. In some societies of the world they are said to have magical powers. American Indians used them for all sorts of reasons that we'll probably never know about. It seems to me that it's on in the US and countries like it where tattoos are looked at in a degrading manner. I personally don't have any but have always wanted to get a butterfly at the base of my thumb but am terrified of needles so don't see that happening any time too soon. I have family members, male and female, who are not affiliated with motorcycle gangs, don't live in trailer parks and are far from "white trash" who have very nice tattoos. I'm interested in hearing everyones opinions on tattoos and for those who have them did it hurt, what are they?
8 responses

• United States
25 May 07
I have always wanted a tattoo on my right arm that was a picture of a heart that said mother I love you. I would also like to have a black leather jacket with an eagle on the back.

• United States
25 May 07
That leather jacket sounds like a complicated tattoo. I don't think that would be fun to get.

• United States
21 May 07
I don't have anything against tattoos or anyone that has one. I wouldn't get one myself though. While I like the way that some tattoos look when a person first gets one I always think about what it would look like when I was older. I don't like how a tattoo looks on an older person. When I see a sixty year old with a tattoo that they got when they were in their twenties it doesn't look that good now.

• United States
25 May 07
I've seen some nasty looking tattoos on people in their 60's and 70's and if I know the person well enough will ask them about it. They are always sorry they had it done.


• United States
25 May 07
Yup, parents just don't get it do they? It's your body and you should be able to do what you want with/to it. lol....but your a very nice child feeling that way.

•
21 May 07
I am a bit of a wimp lol and I have heard stories that one can get skin cancer from tattoos, so I gave it a miss. My sister has a little design on her lower back and I think that is what men find sexy in her lol, because every time she bends down it shows. She gets loads of men asking her out every week in B AND Q MAN! SHE IS 44 YEARS OLD WITH FOUR KIDS, BUT SHE IS NEVER WITHOUT A BOYFRIEND LOL!!! She is pretty and has a lovely character too, but I ma sure it's that tattoo. I think men find a small tattoo on a woman quite sexy, but I wouldn't go as far as Angelina Jolie and get a tattoo for every boyfriend I had, she is covered in them lol. I think like my sis, one discreet one can be very appealing.

• United States
25 May 07
Men definitely find tattoos sexy on women, especially on the lower back. Hell, I'm not into women and I think it's sexy.

• United States
21 May 07
I'd love to have a small one on my ankle but they say on a bone is the most painful. If I could find somebody to go with me and get one too I might do it. My husband says I would be sorry but I would only get a small, tasteful one (if you can call a tattoo tasteful)! I guess I'd really be concerned about the hygiene of the shop since there are so many things that you can get from a dirty needle.

• United States
25 May 07
I've also heard that the ankle is not the best place to get one because of the bones there. My niece just got one on the calf of her leg which sounds like a good idea to me since there are no bones there. We have to make sure we pick a shop with a good reputation so we wouldn't have to worry about hygiene.

• United States
16 May 07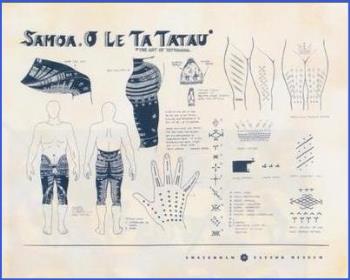 Body tattoos in Samoa are quite common. The traditional samoan tattoo called the "tatau" is a tattoo that covers the entire buttocks and sides of the torso and travels directly over the groin area. It patterns itself completely over both thighs until it reaches to the back of the knees and over the front of the knees. It covers 65% of the body and the format design is usually always the same with the artists motifs applied on it as well. Samoan women can also get one which is called a "malu" which is only from the thigh to below the knee. In the old days it was just the High Chiefs and important people that were allowed the "tatau" along with their sons but nowadays its pretty much open to anyone as long as they got permission from the High Chief of their families. Here are some websites if your interested. http://www.tattoo-samoan.com/what-is-samoan-tattoo-2.html http://www.samoa.co.uk/tattoos.html http://www.wsamoa.ws/index.php?m=52&s=&i=3933 http://www.wsamoa.ws/index.php?m=52&s=&i=3933 I personally don't have any but always wanted a small one on my ankle. :)

• United States
20 May 07
I can't imagine have that much of my body tattooed! It must take a very long time to do. I think I would pass on that one but I'll go with the ankle..lol

• United States
21 May 07
I think that slowly but surely, tattoos are becoming more of a mainstream body adornment. I see more and more women and men who have visible tattoos, and there seems to be less prejudice against them. This does vary some, depending on where you live, but in a big city, it's not unusual to see many people with visible tattoos. Personally, I have five tattoos, but I can cover all of mine by wearing a T-shirt. My fiance has three tattoos, and two of those are on his forearm.

•
30 May 07
I love tattoos so much. I have three roses (one orange, one blue and one purple) on my upper left arm, a purple heart on my left boob, a blue and pink diamond on my left foot, two nautical stars on my back and a crown on my right forearm. All of my tattoos are beautiful and I love them very much. I am planning on getting more in the future, my next three are a blue bird on my right shin, a pink bird on my left shin and a gold anchor on my right foot. I am also contemplating getting the top half of my right arm done in pink leopard print, but my boyfriend doesn't like the idea of that one much! Not going to lie, some of them hurt a lot. But it is so worth it. x