The early bird gets the worm .. or does it?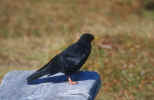 May 17, 2007 3:09am CST
I was drinking a cup of coffee early this morning and watching the wild birds searching in the grass for worms and grubs to feed their young ones with .. Suddenly a blackbird pounced and pulled out of the grass an enormous worm .. at least a foot long .. one of the hatchlings quickly scurried over to get the feast from it's mum .. Without waiting for mum to chop up the worm the baby bird snatched it from mum and started swallowing .. and swallowing .. and swallowing .. fascinated I wondered how such a small bird could cope with such a long worm .. What a racket the mother bird was making .. jumping up and down in front of the hatchling .. the baby bird appeared to be trying to wipe the worm out of it's mouth .. the mother bird kept trying to snatch it but the baby bird wasn't going to let go of it's breakfast prize ... Several minutes went by .. squawking .. frantic flapping and much jumping up and down later .. I decided the poor baby bird must be choking by now .. so I grabbed my Marigolds .. and dashed outside at a fast hobble (I'm mobility disabled!) .. The mother bird flew into the hedge and harangued me .. the baby bird stopped dead ... I crept closer .. then I was able to snatch the worm .. several inches of worm appeared back from the baby birds gullet and I threw the remains over the hedge .. eugh!! The mother bird instantly dashed over as soon as I moved away .. and made a real fuss over the baby bird .. then gave it a real scolding and a peck on the head as punishment for trying to scoff a meal bigger than it could manage ... Phew .. their goes one very lucky baby bird .. had I not been watching this morning .. I wonder what would have happened?? Have you ever 'rescued' a wild animal or bird?? What did you have to do??
3 responses

• Canada
21 May 07
Hi patootie, I just popped in for the weekend and decided to check up on some of my MYLOT buddies. I see you have joined search and rescue! No one can tell a story like you can. I could just "see" it all happening while I was reading this post. I must say it did make me giggle just a little when you were pulling the worm out of the baby birds mouth......just like spaghetti.....yuck.

• United States
20 May 07
Wow Patootie! I have never saved a bird from harm. Nor have I done this with a wild animal. The only animal I had saved was a chipmunk that my cat decided to play with. I am sure that once he finally got away that he probably had a heart attack. The little bird was fortunate that you had been there. It is amazing that the mother bird didn't give you a thrashing too. I have seen mother birds swoop at people who get to near their babies.

• United States
17 May 07
I can't recall saving any animals recently. But I enjoyed your story. I have never seen a worm as long as a foot. Are you sure it wasn't a baby snake? lol. I think you did the right thing, but I probably would have called 911 to the rescue...lol.