Who would you like to see in the future episodes of Supernatural?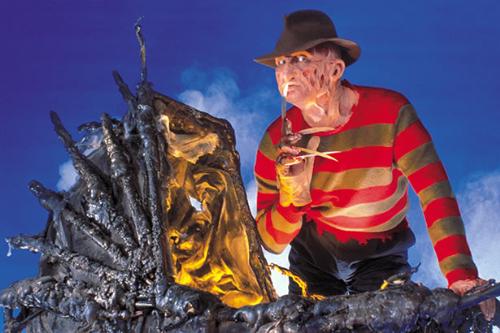 United States
May 17, 2007 3:11pm CST
Supernatural have showcased almost all kinds of paranormal and mystical characters. From vampires to vengeful spirits/ghosts, demons to possessed car (huh?)...Shapeshifters and the like. Question is: who do you want to see in their next episode/s? For me, Freddie Kruger will be a good choice, at least, something like him but this time with superpowers. I can't remember them featuring Incubus (ghost rapist), that'll be scary too. What about you?
5 responses

• United States
18 May 07
I would love to see something simiilar to Freddy Kruger.That would add a nice little spin.As for a ghost rapist,I wouldn't want to see that.There 's too many rapists on tv as it is.That was a good discussion!

• United States
20 May 07
how would they be able to work Freddy into this? that would be on the lines of having to fight Jason and not sure how that would work. would viewers start thinking the show is getting stupid are would they be able to pull it off? it would be great to put an end to jason and freddy once and for all!!

• United States
21 May 07
Thanks sissie for your insights. Well, the idea is somewhat like Freddie Kruger but not exactly like him. The NIghtmare on Elm St SAGA is already too long, we dont want to extend that either. I just thought the idea of a demon or evil-thingy that hunts and kills you in your dreams, somethin like it. Keep 'em cuming guys. :)

• United States
17 May 07
I think it would be cool if they explored some of the mythical creatures and spirits from far eastern religions. They've dealt with the traditional western view of demons, but not ALL demons are evil! Since Dean has had to deal with the idea that not all supernatural creatures are evil before (in the vampire episode), I think it would be great to see them meet up with an eastern style demon who is not actually evil, but they need to figure that out along the way, of course. Another scenario that would be exciting is a beach episode with mermaids/sirens leading away sailors or tourists! I don't think they've done anything like that yet, have they?

• United States
17 May 07
As far as I can remember, they have not featured that yet. Awesome ideas Candid_Ishida! that will be a good twist and I think introducing something good about a well-known "Evil" will definitely gve us, Supernatural fanatics another reason to love the series.

• United States
22 May 07
Selkies! The seal people with so beautiful of voices some of the stories of them feature them singing a girl or guy (depending on the gender of the selkie, or their motive) into the water to drown. Some legends feature them being as only part seal, whilst others would be a seal in the water, to shed their sealskins on land to become strangely beautiful -- or very ugly human beings with supernatural powers. Well I could go on..but they've not been in many shows or movies on tv. Sidhe would also be good (fairies), or the djinn of the arabic legends..certain female djinn were reputed to be vampiric in nature, riding only at night and eating whoever they happened across. Able to disappear into the sands. Maybe Nymphs too. Not necessarily as creatures killing people, but maybe as the ones blamed. They've always had a reputation for flirting with human beings and running from the ones they don't like (and in legend they were supposedly nearly irristable to men -- they were ALWAYS girls), changing into a natural element to escape. Perhaps in the chase, after disappearing they led a human to something much nastier? It'd be interesting, anyways.

• Singapore
12 Sep 07
the show is really good in showcasing most supernatural entities, but still, if there was a slightest chance, i would like to see some asian spooky ghosts on supernatural too. Like the pontianak, penggalan, pelesit, i can hardly imagine how they will do it though as most asians would definitely not like to meet the 3 big P's (pontianak, pengglana, pelesit) in real life..