Are you the eldest, youngest, only or in the middle...?

India
May 22, 2007 3:56am CST
I am the youngest of five brothers. Although being the youngest i had a lot more freedom than my elder brothers, i did not have a sense of identity. i was being compared to them as they were known the brainy ones. Though I learnt to stand up for myself I was always looked down on as being the young, immature, inexperienced . The eldest one still feels I am the black sheep in the family!! It is funny because growing up I thought they were favorite, and I was the one who got treated unfairly! But now when I talk to my other brothers they thought it was the other way around. I realise now that I enjoyed being the youngest. It was nice to think I had older brothers and now I feel I can go to them for advise whenever I needed. So how have you grown? Are you the eldest, youngest, only or in the middle? Share your thoughts and experience.:)
3 responses

• India
22 May 07
I am the youngest one!! I am youngest even if you cnosider my cousins! SO i am very much loved by every one. i am blessed by an elder brother who takes a lot of care of me. MY cousin brothers also love me. But what you say is right. i am alwaus compared with my elder brother - in my height, in my body weight, in my studies, in my 10th marks, in my 12th marks, in each and every exam i give even engineering - he was intelligent! I some times succeed to break his records - i just get a pat from others, but he is very proud of that, thats why i love him very much! As for others they used to care me a lot and as there was no one born after me for 15 long years in my family i was very much loved and taken care by others... Now i am adult and there no such treating as a kid.. i love my family!!

• Philippines
22 May 07
i am the youngest in the family and i tend to be the official family scapegoat. :P whenever something wrong happens or something gets broken around the house, i am always the one to blame even though i really didnt do it. but its not serious though, just some kind of a family joke. :)

•
22 May 07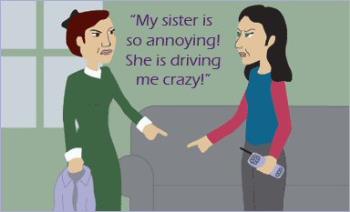 I am the oldest of two siblings. There's just me and my bro, he's 4.5 years younger than me and we've always been very close. I never felt that either of us got preferential treatment but many family friends say that I was always daddy's girl and my brother was mum's favourite. My mum is like my best friend and we get on really well so I never felt she treated him any better than me and also with my dad, for example, he's always around my brother's house helping out with DIY and never at mine - but that is because my husband is quite able to do all these things himself and my brother is kinda lazy LOL! I never grew up wishing I had a sister nor did I wish I wasn't the oldest so I guess I had a pretty happy childhood:)