What is your favorite food at Ikea?

United States
May 22, 2007 10:40am CST
One of my favorite parts of going to Ikea is getting to try the food they have in their cafes. While I have only been to the store once, I made sure I tried lots of things...I had sweedish meatballs, a salmon salad, and a lingnonberry tart. Last night my sister when on a surprise trip to Ikea...and she brought me back a cinnamon bun, so I got to have that for breakfast. What are your favortie snacks that you have had or bought at Ikea?
9 responses

• United States
22 May 07
I love eating at Ikea! The Swedish meatballs are surprisingly good (and not to mention cheap), but I think my favorite thing there might be the salmon salad with that dressing stuff they put with it. The salmon is so good and they even have the fancy lettuce. Oh, and I also love the lingon berry soda they have at the cafeteria. That stuff is so good.

• United States
22 May 07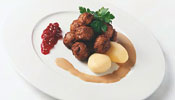 I know! For the price, the portions are really good!

• United States
22 May 07
Yeah, it's also really clever because they want you to stay there and keep shopping. Then again, I wouldn't be surprised if people who live around IKEAs actually went there just to eat.

• United States
22 May 07
If there was an Ikea closer to me, I would just go there to eat!


• Singapore
22 May 07
I thought you were going to say you like to eat the table or lamp there. :P Seems that Ikea serves the same thing everywhere in the world. We have had rave reviews on the papers about how packed the Ikea cafeteria is and how relationship economical and delicious the food is. We have 2 branches of Ikea in Singapore - one megastore version just opened recently. But it is a bit out of the way so I haven't got to visiting it yet. They do provide free bus shuttles from the MRT station.

• United States
22 May 07
No lamps...but all that shpooing makes me hungry. We only recently got one in my state so it's very much still a novelity. There is talk of one coming to my city...but that talk has been in the works for a very long time, so who knows if it will ever happen.

• Singapore
22 May 07
All possible. Ikea is rich. The founder is one of the richest guys in the world.

• United States
22 May 07
Yeah, the problem is at an environmental group desn't want another "Big Box" store in the location. However that area could also really use a place like Ikea to provide jobs (ones that pay above the minimum wage) for the people in the city. It's a tough issue to tackle.

• United States
22 May 07
I guess I've never heard of an Ikea. Do they have those in the south in the US? It's not ringing a bell at all!!!

• United States
22 May 07
Not sure. They only recently put one in my area. You can check out http://www.ikea.com to see if there is a store in your area. As you can tell, I LOVE that place.

• United States
22 May 07
I like the restaurants veggie lasagna, yummy. When ever I go there I seen to have lunch and get that meal. I also like the lingonberry drink they have that is really good too. I have not had one of there cinnamon buns cause I know I would probably get addicted to them and I really don't need those extra pounds.

• United States
22 May 07
oh yeah, the lingonberry soda is really good. I had never had anything lingnonberry before, but I really like it. It's kinda like a more sweet cranberry.

• United States
23 May 07
Oh, that cinnamon bun sounds good! I've only eaten at the cafeteria in Ikea once. I had the chicken caesar salad, and it was very good, I'd definitely order it again.

• Canada
23 May 07
Well that is new .I have not been to an Ikea in years and the one store they had in Eastern Canada closed . However ,,,,it never had a restaurant . We have Costco here in Canada. When I lived In Montreal and Newfoundland I used to like their hot dogs .

• Singapore
23 May 07
Meatballs are a favourite in Ikea. I try other things when I go, like the Salmon. Which is not bad. But the best part about the meatballs are the cranberry sauce. I've heard that Ikea earns more profits from its restaurant than its furniture, proportion wise. that will make for an interesting economic or business case study eh? of companies whose side businesses run better than the core!

• United States
2 Jun 07
I've only eaten at IKEA twice. Once was in the to-go area after you check out. I think I had a veggie dog. When I ate in the restaurant I had a fish kabob which seemed like a good idea at the time but definitely wasn't. I usually love fish, but i guess it wasn't a good idea from there b/c i remember having a sore tummy afterwards.