Are you health conscious?


India
May 26, 2007 6:07am CST
Do you like to keep you fit and fine? Like exercise everyday, eat the right kinda food, don't smoke, sleep on time and wake up early etc etc. Would you worry if you put on those few extra pounds? Do you keep a check on your habits that might affect your health? or do you lead a life carefree and do what pleases you? Which category do you belong to? Maybe the average kind, not too much of a health freak nor too careless about your lifestyle? I belong to the average category, I don't go worrying too much about my health neither do I spoil my health with dagerous habits. What about you?
10 responses
• India
27 May 07
health conscious ofcourse but not in its extreme point..i take balanced diet,try to avoid junk foods.but being not health conschoius is absolutely wrong

• Philippines
27 May 07
Hello leanette. I'm partly health conscious and partly carefree. Health conscious by not smoking, eating more veggies and fishes instead of meat. The only exercise I have is to do household chores which gave me a good sweat and pretty much burned a few calories. I also take my daily supplements. I'm not getting my usual 8 hours of sleep though. I have a very erratic schedule everyday. For as long as I can keep moving, I don't worry about my health at all.

• Canada
27 May 07
I'm 73 and still working every day. Haven't had a medical checkup for 30 yrs. and Yes I'm very Health conscious. In fact its a crucial fact of Life. Unless you Are health conscious you cannot continue to live a healthy life. The old saying, " here for a good time not a long time " is Very true..... But thats ok if its your choice! So make up your mind and go for it!

• Philippines
27 May 07
I am very concious with my weight ever since, so i always watch the foods i take but wathching food diet isn't enough as in my case i am a couch potato...i don't start my day in the morning rather in the afternoon and my night is the dawn... im a vampire like what they say and i don't do workout....so i guess i am only concern with my diet but not with my habits...

• China
26 May 07
Sure i do like to keep my fit and fine.Because,you though a person, the life doesn't belong to only yourself.It belongs all your families and friends.If you die,they must be sad very much.Only selfishes can not cherish their life. And for the best and economical exercise way is to speed walking in the morning and after supper.It works so well that i have never give it up except i really cant't do it. Eating in a healthy way is importment,too.In a word ,having fit and fine has many advantages For example:1.pleasure oneself 2.cut down pain 3.strengthen cofierence 4.meet more friends 5.stay longer time with the families ...

• India
26 May 07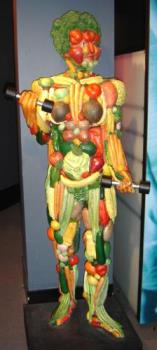 Yes I am health concoius I don't think if u are not mentally and physically fit u cannot enjoy anything in this world .No one can enjoy food if he is having stomach pain.No one will enjoy wearing a gold chain if she has got neck pain.u cant wear u r favourite dress t o t the marraiage of u r friend if u are fall ill in that day.unhealthy situation means u are not only making u r self worry but also u r dear and near ones also.no one want ot be sad and diseased .It is easy to say that I don t care about health.but only when we lose our health we will realize the value of our health.a person who frequently fall ill or will be a burden to the family and if he is employed to the employer also .we are wasting our time and others time also.

• India
26 May 07
I'm really health conscious and I exersice everyday.. It makes me feel confident.. the feelin of bein fit and fine is always pleasing and satisfying..It is one of those few things that you can choose to change. I control my diet but i'm not crazy workin out.. I jus need a fit figure. Belive me it helps in a lot of ways

• India
26 May 07
Ya with the age going on up,we should be so much of health conscious,because now i am 20yrs now i should be physically fit and mentally strong.Everyone should be,like this no difference between boy and girl.Everyone should as strong as possible.