what paying website works for you?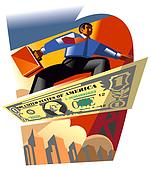 Philippines
May 26, 2007 11:44am CST
I'm a newbie in this type of making money online thing and I know a litle.. I hope to know more about earning bigger every moneth... can u please help me? I have myLot, Clixsense, Fummo, Paid Forumm and I've just registered myself at adsense just now... Does these sites all works? Thanks alot :)
5 responses

• United States
27 May 07
I have had a LOT of success with a lot of different types of programs, and I am currently trying to build a team so that I can help them have similar success to my own. It's tough if you're spreading yourself thin, and I think someone mentioned that. Find out what works for you and isolate those that pay you and keep working with those and I think you'll slowly start to see the benefits of residual income. Just message me through MyLot if you're interested in the programs that work for me (I have proof of payment) or check out my profile and you'll see some of EASIER, FREE things that I dabble in in order to help others. I also have various niche websites, do some affiliate marketing, blogging, article marketing, etc. Best of luck to you.

• Philippines
27 May 07
thanks man, I also want to earn a lot here. I hope I could also reach the success you have right now.

• United States
27 May 07
The key is to keep in mind you're not going to earn a LOT from MyLot. You could post here every second of the day 24 hours a day and I don't know that you would still earn a LOT from Mylot, but Mylot does help you meet other people and build business relationships so that you CAN earn a lot in other programs with those people. Keep that in mind and keep striving to succeed with the programs that have been the most beneficial to you and you'll be fine.

• United States
26 May 07
These websites do work, but you need to put some effort if you expect to get paid. I've signed up for a bunch of paid websites of all kinds. I'm sticking to a few, but I've forgotten about a lot of them. Most of them have either been scams or don't pay enough money. When I do get my first earnings off the internet, it will be from Mylot. I plan on reaching $20 before the end of the month so I can have enough to purchase piano lessons off the internet. Just keep working at it. You'll soon be making enough to stay at one website. God bless!

• Philippines
26 May 07
wow, that's a nice plan... I also do play piano. :) thanks for the advice.

• India
26 May 07
hi man...the one site that really works is adbux...this really pays you..if you manage to get referrals for this ite..it will create wonders for you... you can sign up for this site .. http://adbux.org/?r=reachravi....

• Finland
27 May 07
here you can find some of mine: http://www.linkbucks.com/link/fd94960b

• Philippines
27 May 07
just stay focus on one website that pay's you for real in mylot did you receive your earnings if you receive one of them which real give online money just stay focus on it make more more credits to that site ok just for me this my first time making money online i dont have any ideas if this true or not i am just try it out if it is true much better it could help me a lot thank's bro...for adding me as ur friend