Another day at adoptions

United States
May 26, 2007 6:37pm CST
Well, we had a LOT of traffic. A lot of people came thru and looked, I think we got 4 applications, only one might be any good. Two were rejected because they declaw their cats. I was busy talking about my cats so I don't know why the others were. The one that might be good is going for probably the hardest to place cat there, and then he turned around & bit his foster mom really bad. But the lady still wanted him so it remains to be seen. Booboo stressed so badly that he's going to have the day off tomorrow, guess I'll take E.B. again since it looks like the application we had on her has fallen thru. Tho she stressed pretty badly the second time I took her & I took her home. So, how did you spend your Saturday?
11 responses

• United States
27 May 07
Awww, ElicBxn - I haven't read your previous discussions about this - so I'm with you on all the stress. I can certainly understand! I'd be in the same state. That was funny that the little guy bit his foster mom! Heh, as a cat person, I'd be laughing and saying that it just comes with the territory. ;) I hope you have a great rest of the weekend! Out here on LI, NY I went out to a yard sale, and scored me (well, really Hubby) two CD sets of Tom Clancy Book-On-Tape. Awesome...considering that they were $39.99 in the store (each) and I talked the lady down to $.99 a pop. I was intending on selling them on eBay, but now it looks like Hubby wants to listen to them and have me sell them as "nearly new". Heh. I'll be going to a barbecue with the relatives, and settling back this weekend. No answering snippy eBay emails, no worrying about people having a tough time 'cause they don't know how to use what they bought...just me and my couch and a movie or two. Happy Memorial Day weekend!


• United States
27 May 07
I'm gearing myself up for the loss. Since I've lived in Texas since I was 2 I'm not really close to my relatives, but my mom is going to take it hard. The 3 of us kids are really going to have to watch mom because she isn't getting any younger or stronger. I know that my uncle has lived these last 5 years because he's been in my cousin's home instead of some nursing home, but I don't know if my cousin's wife will be able to handle him alone. He was saying that he didn't think he'd make it to 85, and now that he has, he's saying he doesn't want to lose his son first. I did see Pirates on Thursday, so that's something...

• United States
27 May 07
Woo! I'll be looking forward to your review!

• United States
26 May 07
Awwww that doesn't sound like a good day, it rained all day here from about 10:00 am to just about now which is almost 7:00 pm, we spent the day in bed sleeping, I finally got him up at 12:30, couldn't believe it, then he popped up with all this energy and we went grocery shopping in the pouring down rain, not fun, wouldn't try it, we bought about $180 worth of groceries came home and he went back to bed, unsure what the evening holds, we are home alone without the children this weekend, so it is kind of nice to enjoy the calm. You have a good one my friend. Stay Safe.

• United States
27 May 07
I'm glad that those applictions were turned down because they declaw cats.I think that's awful. I spent my Saturday cleaning ,and boiling potatoes and eggs and macaroni and cutting up celery.tomorrow I mix up the potato salad and macaroni salad then all I have to do Monday is add the miracle whip.I then went to work at 5 ,got off at 9 ,went shopping .Tomorrow I'm not doing a darn thing but mix up the stuff for monday and cut up the cheeses and keilbasa. which wont' take me long at all.

• United States
27 May 07
Unlike you, I spent my Saturday doing absolutely nothing. I slept in, which is something I rarely get to do. Then my daughter and I watched movies all day long. It was just a very lazy day. I hope you are able to find good parents for your kitties.

• Philippines
27 May 07
i am not really that knowledgeable about animals. do you mean to say that when one declaws a cat, the claws never get to be growing back again? i had never tried this before becuase, i believe that those claws are necessary for their survival. we have to learn to respect whatever nature has given to these animals.

• United States
31 May 07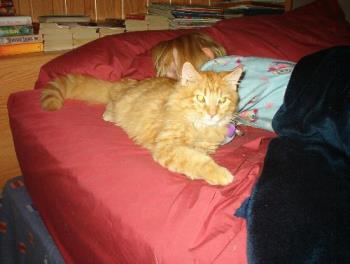 How could anyone look into this playful kitten's eyes and then declaw him? NEVER!!! After witnessing our own cat being delawed a long time ago and then watching him suffering afterwards for a week, I told hubby never ever again are we going to do that to a cat. If ppl would take the time to train their cats to use a scratching post and buy one that can take the abuse of an aggressive scratcher, then there would be no reason to have them declawed. My one cat, Lightning, is very careful with his claws and only uses them to tell other ppl to look and not touch him. Even then, he just swats at them with enough claw to mean business. Granted, Tigger in the pic used his claws to keep us away from him when we first aquired him but only cause he was scared that we would hurt him. Now, he likes to bat at us without claws to get our attention if his soft mewing don't work. He still backs off if his claw happens to catch our pantleg thinking we are going to hurt him for it but then remembers he's with a family that will make sure noone will ever hurt him again and come back for the stroking he so much loves from us.

• United States
27 May 07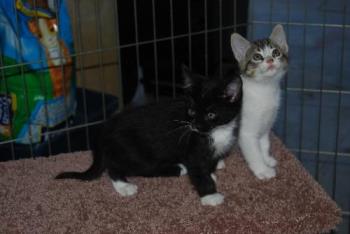 I went to the zoo today, supposed to go for a class field trip. But got super lost (by 50 miles!) and got there really late. And ending up never finding the tour. I also was doing cat adoption stuff this morning and evening though. I'm used to doing small animal adoptions, not kitten adoptions. But my friends rescued some feral kittens and so I'm helping them by screening potential adopters. I've sent out quite a few applications now, but so far I only have reason to believe one of them will come back good. I never get the whole declawing thing... if people want a declawed cat, aren't there plenty in shelters already declawed? There sure seem to be out here. No reason to injure another cat when there is already one in the shelter waiting for those type of people. After seeing a declaw done before, I don't see how anyone could do that to a living creature.

• United States
27 May 07
Isn't that the truth! I've had 3 cats come thru my household that were already declawed. Obviously if they were here (and all these were before I was really into this rescue stuff) but they were first on the street. One wouldn't stay inside & was hit by a car a few days later, very sad, but we found homes for the other 2. The last guy was pretty old when he was rescued & in very bad shape, the 2 we found homes for were also long haired cats.


• United States
27 May 07
I spent my saturday being lazy i suppose.We went and ate breakfast,came home and i am doing some embrodery,then we went out and ate again this afternoon.The weather is bad here and we cannot do much with all the rain.Sounds like you had a busy day.I am sure you really enjoy your job of placing your pets.I am glad that you make sure they get a good home.I am trying to train my 5 month old puppy to use the potty outside.i take her out often ,she uses the potty,i give her a treat and she comes right in and uses the floor.She knows that i don't want her to do that but she still does.Someone told me to keep her in a kennel while training but i don't like her to be penned up all the time,it seems so cruel to me.

• United States
27 May 07
I went to a friend of my mother's house and helped her make 5 silk flower arrangements for her 50th wedding anniversary party. Then I took my mother and granny to Big Lots to look for underwear for my son and to get a few things for my mom's house. Then we went to WalMart, where I got drenched in the serious downpour that started as I was halfway between the car and the doors to the store. :) They didn't have any shopping carts, so I was forced to buy this beautiful red tote bag that carried everything I wanted. Then we took my granny home and picked up my husband and son. They wanted to eat so we went to the Golden Corral where I was freezing cold and nothing tasted good to me (I think I am sick). Then we went to another Big Lots where I spent $35 and didn't buy anything useful! I bought lots of Jones Soda at $2 a 4 pack though. :) Then I came home and went to bed.

• United States
31 May 07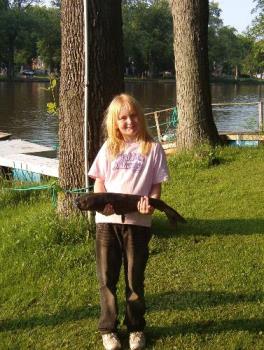 My daughter and I spent the Saturday being lazy at the campsite. It was raining off/on so she stayed in the tent and did her homework while I sat outside under the portable gazebo reading one of my many romance novels. After her homework was done, she went fishing down the lane and caught a nice sized bluegill. Came back for me to take it off for her and then went to another lake down the lane. Again, caught another bluegill but lil smaller than the 1st one. After taking it off for her I told her she should really learn how to bait her own hook and take her own fish off it instead of being a squemish baby about it. lol Then I started a fire and we cooked our lunch which was hotdogs over it. Soon after eating, her daddy and uncle showed up. While they took her fishing in the boat, I stayed behind and took a nap. I woke up to our daughter screaming at me to come and see what she caught. A big catfish that hubby claims is at least 6lbs. She was all smug about it cause we all caught bluegills. lol I had to work that night so left after a dinner of more hotdogs to take a nap b4 going to work. That was our day spent. We didn't do anything associated with work this past weekend and really enjoyed ourselves despite the rain.

• United States
27 May 07
we went over and helped my parents mow and pick weeds and oh so fun work like that, lol! it was nice to spend time with them, out in the sunshine!