Mao is missing:(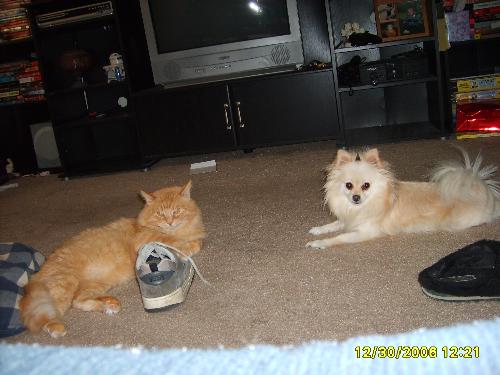 United States
May 28, 2007 5:20pm CST
My wife and I are rather distraught, about a week ago we notices that our large orange tabby has gone missing. We have no idea why he would have left, but we were trying to find him to show him off to our neighbor and we couldn't find him. This cat was awesome, I hope he has found a good home, although I am not so sure about the other people around here. We have left food out for him and everything, but no Mao. We hope he will come back as we are moving in less than a month.
5 responses

• United States
29 May 07
That's really upsetting to hear. A few years ago, my Leo disappeared for two weeks. I went out every day on my bike around the neighborhood calling him. Then one day, someone suggested that I visit the local humane society. I did, and sure enough, I found Leo! The police had picked him up on one of our nearby main streets and notified the Humane Society, who came over and took the cat. Needless to say, I had to pay for the cat's two-week vacation (room and board), but at least I got the fool back. He was so happy to see and hear me that he threw himself on the cage floor and stuck his paw through the bars to greet me. I don't allow ANY of my cats to roam the streets. God only knows what will happen to them out there. My two fur babies are strictly indoor cats. I learned my lesson years ago.

• United States
29 May 07
We've called the Humane Society, there's actually two in this town, one for the city, one for the county. And he's not at either one. We don't allow our animals to be outside cats, either. Actually, even our dog hates to be outside!! We'll keep watching for him, and keep calling, but he was apparently an outdoor cat before we had him, and has all his claws, so i'm hoping even if he doesn't come home, he'll be safe.

• India
29 May 07
Oh it is really sad to know that.But sometimes cats do runaway & come back later after some days.It had happened with us.Hopefully he will return before you shift your home.

• United States
29 May 07
Thank you for your good wishes. They are much appreciated. We hope he comes home also. It's the first time something like this has happened. And that's what really worries us most right now, is that he won't come home before we move. I can't imagine if he came home after to find that we were gone.

• United States
29 May 07
That would be the huge kitty that is bigger than my little Lilly? Oh! I am so sorry! I hope you find the poor kitty or the kitty comes back soon!! I noticed you said you were moving soon. Are you still in your old place? So Mao hasn't lost because Mao doesn't know the surrounding?

• United States
29 May 07
Yeah, he was our HUGE kitty. I don't know that he's familiar with the area b/c he's never been outside. So i don't know if he'll be able to find his way home. It's been a little over a week since he's been missing, so i hope that at the very least that he's safe. We just miss him. Badly.

• United States
28 May 07
Have you guys put up posters yet? I'm thinking that if you really want the cat back if you put posters up around town someone will contact you about the cat. I know whats its like to have a pet missing good luck with your search.

• Australia
28 May 07
Oh dear that is awful, lets hope he is safe and decides to come home agin, I would be so upset if this happened to my cat, sometimes when he hasn't been around for a couple of hours or misses a meal I start getting upset so I can imagine how you feel, I will keep my fingers crossed for you...