What Do Box Turtles Eat?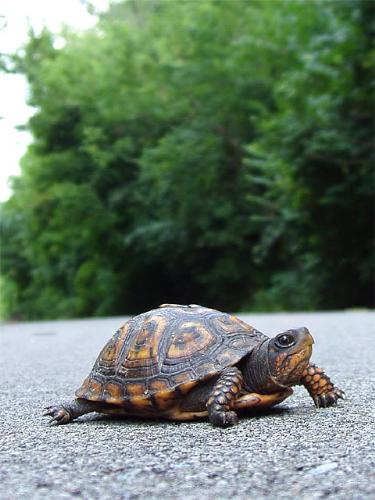 United States
May 30, 2007 3:13pm CST
I just found a box turtle at the river a couple of days ago. I've been trying to keep him as a pet, but he won't eat anything that I put in front of him. I've tried broccoli and some lettuce leaves and he won't eat either. What do you feed box turtles?
4 responses

• United States
30 May 07
Lettuce will give him the runs. Go to the pet store and get some reptile pellets. They are made especially for turtles. One of my daughters has had turtles for some time now and this is what she feeds. They all eat them so must taste good..haha.

• United States
3 Oct 09
mine doesn't eat lettuce i have tried everything and he won't eat!!!

• United States
30 Jul 08
Box turtles eat live earth worms, frozen strawberries, moist cat food, baby food, and eggs. They eat a lot more protien rich food than you would think. They like meat. Sometimes at first it takes them a while to eat. They can go several months without food. Just offer the food daily and soak them in water daily. Until you find something they like.

• United States
5 Jun 09
okay, like what type of moist cat food? i own cats...theres the dry and the wet kind.

•
20 May 10
moist cat food is essentially wet food, just probably the pasty stuff and not the meat strips in gloppy sauce. TURTLES RULE! we have a "community turtle" in the band room at my school, and today i improved his habitat by giving him new, good soil that i dug up from the ground outside.. i also gave him some clods of grass and dirt(sod?) so he can walk on them, a rock, and some earthworms in the soil. i gave him two little water dishes and a food dish too. im gonna feed him organic strawberries and baby lettuce from my garden along with some moss we've seen turtles on the hill next to my house eating(we have nicknamesd this "turtle hill" because of all the turtles we've seen there!)... is that okay?


• United States
30 May 07
We have had a box turtle for over 3 years now!! I didn't think he would last that long =) We usually get him the Meal Worms from the pet store, we give him the pellets also but he doesn't really eat them. Ours will eat tomatoes and carrots (uncooked). They are really cool!!