Do you drink your coffee Black?

Canada
6 responses

• Canada
4 Jun 07
oh my no, I could not bear to drink coffee if it was black. In fact when I have coffee at Tim Horton's it is always double -double. Double cream and double sugar and sometimes I have to have a bit more sugar. I prefer to have my coffee flavored as well. I think I like French vanilla cappuccino the best .Which is odd because I usually like chocolate in most everything.

• United States
2 Jun 07
I am not a coffee drinker but when traveling long distances I will usually get myself a cup of McDonald's premium roast coffee, which I will drink black. I like their's okay... but still can not drink the full cup before it gets too cold to be enjoyable. So, I ask for the cream and sugar as well - then when the cup is half empty my beloved husband can add the cream and sugar and drink the other half a cup :)

• Germany
2 Jun 07

I drink my coffee with cream or with milk. This is the way I like it and the way I think it tastes best. Sugar I only drink when it is a specialty coffee like cappuchino or espresso that they offer here in Italian restaurants. At home I drink my coffee from the coffe maker with cream. Black coffee I only drank when I thought I needed to loose a couple of pounds. I do not think it tastes great.

• India
2 Jun 07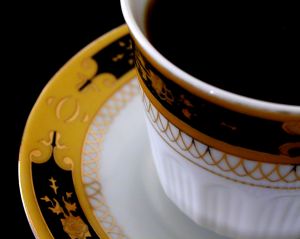 I used to take a lot of black when I was in Sri lanka.And I like it too.But after coming here I am doing what all the others are doing.I am taking coffee with milk regularly.But at times i take black coffee for my headache.

• Philippines
14 Apr 08
Like you I like my coffee with creamer. I try to drink it plain black but I like it better when it comes with creamer and a little bit sugar on it.

• India
18 Dec 07
I prefer chocolate on top of my cappuccinos. I like cinnamon, but just not on a cappuccino. I drink about 2 cups a day but not really on a daily basis. Sometimes every other day but there are times too that it would go everyday for a week or so. But there are really times that I really crave for coffee not just liking the smell of it but really tasting it.