what do you think of women having tattoo??

Philippines
11 responses


• Philippines
15 Jun 07
we have the same kind of thinking. those tattoos can never make a person look healthier and cleaner. then, if we consider how much pain they had to go through in order to get tattooed, it is even a deeper puzzle for me. anyway, it is their choice. i hope that there will be more of our kind who dislike tattooing.

• Australia
5 Jun 07
I also have a tattoo on my ancle, my brother wanted me to get one after a family tragidy I agreed but didnt want it on my upper body. We have matching ones. I think if you are considering one put a lot of time into what you want. I use to work in a nursing home a old women with tattoos do look a little funny. But other wise the ancle was about the only place i notice that didnt warp as much with time. It is a life time decision and is rearly removed without scaring so make it mean something.

• India
5 Jun 07
i personally dislike having tattos. i can not give opinion about women having tatto because it is their personal choice. i mean to say i cannot tell if a woman having a tattoo is good or bad. it can be either of them. and same can be the case with a woman not having tattoo.

•
4 Jun 07
well I'm a woman with a tattoo, and I want to have some more. I feel the same about a woman having a tattoo as I do about a man having a tattoo. a well thought out, personally meaningful design is good. picking something off the wall just for the sake of having a tattoo isn't. I see it as decorating your body and making it more beautiful. I designed mine myself and I think it is very beautiful. every time I see it I think how lovely it looks. I don't think anyone should have a tattoo just because they think it's "cool" to have one. it should be because you really really want that picture on your body for the rest of your life. tattoos can be very beautiful, and enhance someones appearence.


• Philippines
15 Jun 07
i never liked tattoos. they used to be had only by those people who got into jail and stayed there for a considerable period of time. when i was small, a tattoed man is always a bad man. until now, i shirk whenever i see someone with a tattoo becuase, i do not see the rational for having any at all. now, let us switch in to the religious aspect. it is so written in the Bible that we must take care of our bodies, keep it clean and away from all unnecessary harm. we have to protect our bodies from all transgressions. take a look now at what happens when one gets tattoed. the person is being pricked by so many needles. meaning we harmed ourselves unnecessarily in the process, then inkblots are being introduced dirtying the part of skin unnecessarilly and lastly, the person did it by choice - the tattoos are introduced into the skin because the person had wanted it. at most times, the person even paid for it. no, for me, man or woman, we must all rule out having tattoos of any kind.

• Philippines
15 Jun 07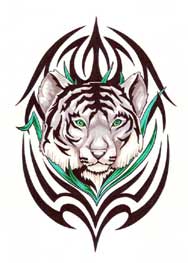 Tattoo are OK as long as it is located where it can be covered by clothing. I do respect other people who like to have tattoos on some parts of the body that can be seen.

• Philippines
5 Jun 07
if its not that big, and if they will put it on somewhere hidden then its okay for me.


• Philippines
4 Jun 07
A tattoo is a work of Art, and the body is a canvas. People who have tattooes are just expressing their art in this way. Although I do admit that it looks good now, while the skin is still taut. But how about when they grow old and wrinkled? I don't mind a woman having a tattoo in their body. Although I don't have one and will never have one.

• Philippines
4 Jun 07
i had a henna tattoo once on the lower part of my nape. it was a fun moment for me knowing that it was just temporary. had it been permanent i wouldn't have agreed to it. i do not like myself having permanent tattoos because it seems so unnatural. i would prefer my skin to stay as it is. as for the other women, sometimes i see women who do sport tattoos on their body and it looks nice on them. i don't have any objections whatsoever since its their choice but sometimes too, i really can't help but wonder what it would look like when they get old.