Who still remembers Savatage?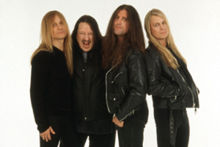 Philippines
June 4, 2007 8:36am CST
Well I just stumbled upon to one of their songs, I just can't help but reminisce the memories whenever I come to hear this particular. It's one of the under-rated songs during their time, and probably one of their very best. The title of the song is, "All That I Bleed."It has great meaning, the lyrics was well-written and the song is very uplifitng too(well, that's what I think!LoL). Here's the link, I suggest you check it out first and listen before posting comments!;) http://profile.imeem.com/MPmUIf/music/V_Yekv3m/all_that_i_bleed/ Thanks..
4 responses

• Germany
28 Jun 07
I think, All that I bleed is one of the most beautiful ballads Savatage have ever written, matched only by the incredible Believe. Both of them have me in tears almost everytime I listen to them (which, consequently, I don't do very often). I think Savatage and the piano are a perfect match.

• Philippines
10 Jul 07
I like this band specially their music and their song such us All that I bleed which I this album since 1993 when I was in college.

• Philippines
4 Jun 07
i do not remember knowing the band, i am sorry and i feel bad because as an a&r from different recording companies ,it was only now that i came to know this one.thanks raijin. i tagged you as a friend at imeem.salamat ,chong!

• Brazil
21 Mar 10
Of cooourse! Savatage is one my prefered Metal band! Just love their sound. Edge of Thorns is one of the best albums I've heard in all my life.