Have you ever watched the show The Nanny or Nanny 911 ?

Canada
June 5, 2007 10:53am CST
Do you believe that someone can come into your house and show you how to raise your children so they are perfect little angels in only a week ? Do you believe that anyone can really turn a family about in this amount of time and do you believe that the families actually remain the perfect family they show at the end ? Do you believe this is true or do you belive like most shows that it is edited to look better ?
7 responses

• United States
5 Jun 07
i think they probably edit it to make it look a little better. I find it pretty hard to believe that they can change the kids so fast. I haven't watched a whole lot of the shows, but from the ones I've seen there were some pretty out of control kids. seems weird that they could change the kids so fast, but then again, how do they get the kids to act so well behaved on camera?

• Canada
5 Jun 07
I am not sure but it does seem a little too easy that someone could come in and make such a complete change about in such a short period of time . Thank you for your response .


• Malaysia
7 Jun 07
I watch the nanny but not si much for the messages that the show is trying to send out to the viewers but I watch it due to the fact that it is a funny show. I enjoy laughing at Nanny Fran's antics and that is good enough for me.

• Singapore
7 Jun 07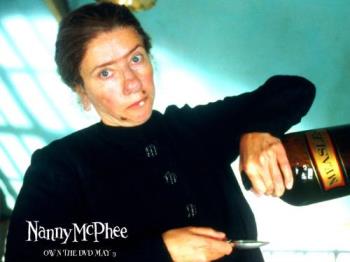 I think the show is edited. It does serve as a good time for parents to reflect on raising their own children. However, it definitely shows how spoilt kids are nowadays. I'm sure rowdy kids are the norm these days such that people can even come up with the idea of such a program. I do think that the tips helps families and most importantly, parents, manage their little 'angels'. It is definitely difficult raising children now compared to when i was younger. - Lyn

• United States
6 Jun 07
I believe it is edited to make it look better. Kids are not designed to learn how to behave in a week. There are a lot of habits that are formed before the "Nanny" walks through the door. Kids generally resent a new person coming in and trying to make changes. What they show at the end of the week is for the camaras sake. After the camara is turned off and the Nanny goes home I think it is things back to normal.

• United Kingdom
17 Aug 07
I have caught glimpses of Nanny 911. I always think it's fake, not because of the whole teaching them discipline in a week but more because of just how bad some of the fsmilies seem to be. A lot of them, if the kids really were that unruly, would surely have had social services involved. I think the familes are acting to look worse than they are so it looks even better when they are changed. I'm sure some do have issues and just need help to find a good way to discipline their kids but I just don't think these programmes are entirely genuine.

• United States
22 Jun 07
I used to watch the Nanny when our kids were still at home. LOL only on TV can anyone change a kids personality in an hour or less. LOL Nope I do not believe anyone can change a kids behavior in a week or a lifetime.