tulips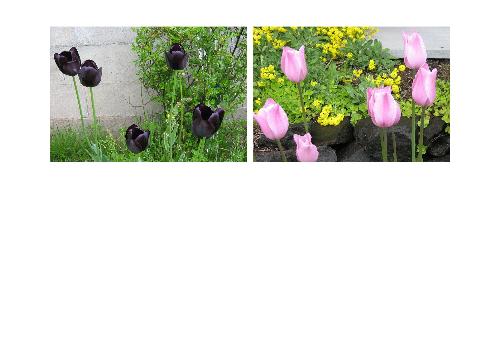 Canada
June 6, 2007 7:29am CST
I love flowers, and I love to see them grow. Unfortunately with my lower back problems (my sicatic nerve being the latest), and osteoarthrtis I can not get down and plant seeds and weed the garden. My daughter Christy has taken an interest and has planted seeds this year. They are starting to come out and we hope to be able to enjoy them this summer. We do not have our own tulips this year, the bulbs were too old and I think something finished them off. However, I was able to take a picture of both my Mom's tulips and also some that my friend has grown. They have stayed in bloom a whole month she says. If you look below at the picture you can see these tulips.
4 responses

• United States
15 Jun 07
OH I just love flowers of any kind. I have them everywhere. I love tulips also. I have them in my front yard. I am sorry that you cannot care for them anymore. That must really be hard on you. Mine never bloom for a whole month though. She is very lucky


• Canada
7 Jun 07
I didn't know you could post two pictures on mylot. Did you have to put them together first to get it like that or did you just post one at a time. I love them together they are so beautiful and the colour so brillant!

• United States
12 Jul 07
one of my favorite flowers. I miss getting to go to the local tulip farm. It was a beautiful spring sight but the owner passed away. So now I got to parks to photograph them in the spring time