Akatsuki leader: the missing 3rd Kazekage???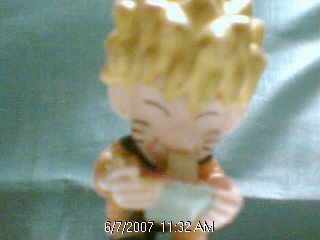 Philippines
June 6, 2007 11:55pm CST
My brothers and I have this theory. On Naruto Shippuuden ep 16, Chiyo-sama mentioned of the most powerful Kazekage in the history of the hidden village of Sand who has gone missing. The search team did not find any corpse of the Kazekage. Since the Akatsuki leader and the 3rd Kazekage statue has the same hairstyle, we thought that the Akatsuki leader might actually be the missing 3rd Kazekage. What d'ya think?
4 responses

• Australia
7 Jun 07
wait til you find out who killed him

• Philippines
10 Jun 07
my brothers and i are practically being killed with suspense here. we watch naruto every week. we hear a lot of nasty remarks about the pacing of the story, that it's to slow, but i think we'll never tire of watching it. Masashi Kishimoto simply rocks!

• United States
7 Jun 07
Sorry, if you read along in the manga, you'll find out that that's not true. The leader of Akatsuki hasn't been revealed yet in the Naruto storyline, they just show a shadow and those eyes. There are plenty of rumors going around about who the leader is saying it's the 4th Hokage and everything...mostly people are looking at the shape of the hair...but like i said in other forums...if thats the case about 60% of the naruto characters shown can fit that description...hey...maybe its Obito! (in the manga only)

• Philippines
7 Jun 07
glad that there's a manga reader to clear this matter for us. thanks for taking the time to respond.

• Philippines
19 Apr 10
Um, the 3rd Kazekage became a puppet of Sasori's - it's the one that allows him to use iron particles for combat. This explains why the corpse hasn't been found. The manga will also explain who the leader of the Akatsuki is. (And it's not the Rinnengan user).