Luis Figo, Among the Unemployed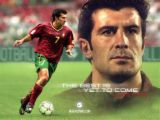 Portugal
June 7, 2007 10:02am CST
I read in the local newspaper that Luis Figo has turned down the Arabian Nights Arena and is presently unemployed. However, he had Tottenham in mind as he has always wanted to play in the Premier League. However, it seems that so far Tottenham has not responded to his dream. He has turned down flat coming back to his roots to play a year in Sporting Club de Portugal but some of the directors seem to think that sooner or later he will return. I think they want him to be to Sporting Clube de Portugal what Eusebio is to Sport Lisboa e Benfica. Only time will tell. Figo is now 35 years old. Do you think that he should look for a team in England, sign up for one more year in Inter where he is still more than welcome, or return to play one last year in the club that was responsible for his formation?
6 responses

•
9 Jun 07
Personally I think he could end his career on a high if he went back home and played out his last year to those who have supported him throughout his football life. Going to an English team for a year, to me, would serve him no purpose as the Priemier teams are for young, fresh talent, although some footballers do well at the end of their careers. He should look more into management at the age of 35 years as I am sure he has many years left in football to give good advise and maybe bring a team to the front off his own merits of being a world famous player. Who knows, but I am sure he will make the right decison if people still have faith in his talents.

• Portugal
10 Jun 07
I think you have summed it up very nicely in a nutshell. This morning one of the local sports newspaper cited an interview after last night's star-studded "All Stars 07" benifit game in which Figo said that he is under no pressure at the moment to make a decisions but that " if I stay in Europe one more year it will be in Inter and not in any other club whatever. It was impossible to go to Saudi Arabia and I see no other market for me. The United Stataes? I have thought about it for some time now but it did not work out. At this time this hypothesis is out of the question. Inter's president has made it clear that he wants me one more year. So I will either play one more year in Inter or I will put an end to my career". I guess now it's just a case of wait and see. I would like to see him come back to my team in some capacity as I think it will be good for "publicity" for my team. He did make a statement some time back that he would like to be associated with Sporting at some time in the future but made no promises or demands. Who knows, he may well decide to run for president of the Club....of or Portugal for that matter (just spiffing). Always nice to see you allsorts. Have a nice day.

•
11 Jun 07
I think he has made the right decision. When great footballers go to some obscure place when their career is at an end, they to me, tend to be sellouts. Look at Beckham and even Linekar all those years ago. They go, get their wages but are soon forgotten for what they did. If he goes to your team it will be an asset, but even if he doesn't he will still go out on a high instead of ending up in a country that does not really repect the passion for what the game represents. Good to see you back gifana, you have been missed!!

• Portugal
14 Jun 07
Thanks..for your last comment. I agree with you entirely sorts. I, too, feel that he will definitely go out on a higher high by playing his last year at Inter. It was sad that a great player like Eusebio who suffered horrendously playing injured (it was way before the "miracle spray". Once the injuries caught up with him he was forced to play for "minor" league teams in Portugal and for a time went into never, never land. However, a few years ago he was resuscitated by a newly elected Club President and is now very much again in the spotlight of Benfica. However, the difference between the two is that Figo is also recognized as a very successful businessman...having invested his football earnings well. He has only one negative point...his three children are girls so at the moment there is no "chip off the old block" to follow.

• India
14 Jul 07
he has signed a new contract at inter..he wud b stayin der till d end of dis year..btw figo jus turned 34..i still think he has 2-3 gud years ahead of him..heis still in gr8p physical shape n can still take past ppl.!!

• Portugal
31 Jul 07
You are so right. However, I can't say that I have been that thrilled with his pre-season performance to date. In any event I would still accept him back in Sporting should he decide to change his mind. On the other hand, his good friend Rui Costa has not been doing that will in his return to Benfice and I doubt if there will be that much more improvement now that Simão has transferred to Atletico Madrid. I guess we'll just have to wait and see. Thanks so much for dropping by and for your input. +


• Portugal
17 Jun 07
I know arkaf but thanks for throwing it in here. Yes, he has said that he will not be returning to Sporting to play but he also said that he was leaving the door open for some position at a later date. I wouldn't be against his running for president of Sporting....he would sure get my 10 votes as a voting club member. I think he would bring a lot of prestige to the club especially since he has a myriad of friends and acquaintences in the football world. +

• Singapore
8 Jun 07
I do think that if Figo dosen't mind going to teams like Sunderland , bolton or even Newcastle , he can end up in these english clubs if he dosent not mind a paycut yea ... not to say his stumbling wages and he dosen't seems to be as fit as he was in the past .Prehaps he should seek for fresh challenge to get some form like David beckham then keep staying in big teams yea

• Portugal
8 Jun 07
I really don't think that the money is a big obstacle as long as the amount is dignified.....I doubt if he would play anywhere for peanuts. However, I saw in the paper today that LA Galaxy might also make a bid for him. If he should decide to go to Los Angeles I don't believe it would be for the same reason as Beckham....close to Hollywood. Helen Mirren is going to give him acting lessons. Egads....what you men won't do for the women you "love". Thanks for dropping by and for your input.

• Portugal
7 Jun 07
I think Figo is going to play one more season in Inter! He will not be in Sporting like Eusebio is in Benfica! He is a good man in business and he do not need to stay in any club after he ends his carreer!

• Portugal
8 Jun 07
I agree with you except for one thing....Figo has said in the past that he would like to return to Sporting but not as a player. I have a sneaking suspicion that he will be one of the directors, if not president, one day....but am not sure exactly when. On the other hand he was interested in going to Tottenham but evidently no agreement could be reached. He has said for a couple of years that he would like to play in the Premier League before he retired. We can only wait and see. PS: Are you coming down to Lisbon to see Figo and his "All Stars" in Avalade? I haven't decided whether I will go but I would like to see Schumacher in action....didn't like him as a F1 driver but always enjoyed watching him play soccer.