What's Your Favorite Lego theme?

United States
June 8, 2007 1:52pm CST
For me it has to be the Castle series! There are so many cool figures and weapons to collect and the themes range from fun and light hearted to dark and evil. I have been collecting them for over fifteen years and have been working on making a HUGE castle complete with a real moat. With so many themes to choose from, which one is your favorite?
10 responses



• Malaysia
9 Jun 07
haha.. we two also same... i m also surprise with that coz i just have plenty of knowledge for lego but have interset to know the answer by others

•
26 Jun 09
I absolutely love the City series. It's my all time favourite by far. It's the one I started off with as a small child and I have always stuck with it. Recently I was looking at the new town plan for the 50th anniversary and I really want to get it! I like the castles too but it's never something I ever had much of so I have really collected the City series the most.



• United States
22 Dec 07
my brother and i were really into the castles for a long time...they just had the best pieces! I'm not sure what they have now, this was a good 15 years ago! i also really liked the pirates ones...i used to build little island retreats for my lego people...

• United States
18 Dec 07
I think that my current favorite theme is the Batman series. As a long time fan of the comic/series/films I am just drawn to these ones. Have you seen the short film that they created to go along with it? Pretty interesting how they used legos.

• United States
15 Dec 07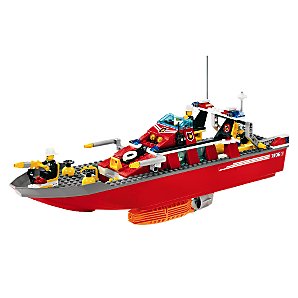 My favorite lego series is and always will be the city. I loved them as a kid and I still love them today. In fact just the other day I help my boy put together this firefighting boat.

• Brazil
11 Jun 07
pirates and castle theme... i have bought a lot of lego... when i was young...!! but unfortunaly... i stoped to play with this... and lose my pieces...!! T_T so sad... hahahah

• Malaysia
9 Jun 07
well you mean the theme is series is it?? for all my mind thinking now is the series of Star wars becouse i have that series so far.. by the way i have long time didnt touch lego coz my place sell very expensive... even that is nice.. i also saw saw many type of it too