~ Trust~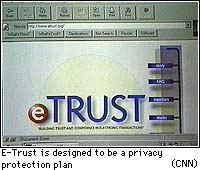 India
June 15, 2007 2:21pm CST
I've given a lot of thought lately to the concept of trust, both in romantic and platonic relationships. However, lately I've been more introspective regarding the former because I find myself repeatedly giving it, and giving it some more, only to have it betrayed time and time again. I am one of those people who gives trust freely and openly until I'm given reason not to. This is probably very naive of me (actually IS naive of me, as experience has demonstrated), but it's the way I operate. I'm freakishly optimistic, I guess, and bounce back (eventually) from every heartbreak. As a result, everyone pretty much starts off with a full glass of trust in my book. However, once I'm given a reason not to trust someone, it's hard to ever get back to that full glass...it'll always be a little emptier than it was in the beginning. On the opposite end of the spectrum of the trust scale is each and every guy I've ever dated. FF said, "You can't just go throwing trust around all willy nilly, Star. It's gotta be EARNED." (This has always offended me, for I pride myself on my trustworthiness, particularly within a romantic relationship...but maybe he was trying to tell me that HE wasn't to be trusted...?) Anyway, these people seem to start with an empty glass of trust, adding and taking away trust from the glass as the relationship progresses. The amount of trust is always in flux...which to me seems really unstable. So, help me understand the earned-trust perspective. Is the person who thinks trust needs to be earned someone who's been hurt before, and so they're gunshy and need the other person to prove themself? Or is it possible that the person who doesn't trust freely is someone who really should not be trusted himself (much like the suspicious cheating spouse/SO)?
7 responses

• Delhi, India
16 Jun 07
Touch, Are you a philsophy student or a philospher? What you wanted to convey you have written very beautifully and have phrased your wordings and narrative like a seasoned writer. Good! Very Good! Now your questions at the end of your discussions...I think your appraoch cannot be termed as a wrong approach. But I am afraid...such is the atmosphere and order of the day....if you ask me, I would say donot trust at once at anybody. 'Trust', I think is like relationship or say love...which is built up step-by-step. So if you start liking someone...you will have to watch him/her observe him/her...day by day...whether his/her intentions are noble and pure so that he/she can trusted. (Aajkal jamana itna kkhaarab hai...yeh pata lagna bahut muskhil ho jata hai...ki kis par kitna vishwas karna ttheek hoga!) I think you will have to apply all your experience and knowledge to see whether a person is trustworthy. On the other hand....if you start doubting everybody since beginning....that is also not good (this may be called a negative attitude)....then you cannot move on towards building a positive relationships. Treuly speaking, I am also like you...I immediately start trusting anyboy (thinking that he/she would be nice like me) (and sometimes I land into troble also for my nature). But when I start interacting with that persons...slowly and gradually I come to know the real person. Such is the atmosphere ...even if I say to you and assure you that I am trustworthy...you will find it very difficult to believe me in the beginning. Specially, here when we are interacting 'on-line' or say through mylot only....I do not have anything to prove my trustworthiness to youthrough on-line. But, I can say with convictrion that if you trust me as your reliable friend...hopefully I will not disappoint you and will not break your trust. Thanks for bringing out a very relevant discussions. deepak

• Delhi, India
16 Jun 07
In the last but third sentence please read 'conviction'.

• India
16 Jun 07
Dear dpk262006 I am not a philosophy student or philosopher .. It's just that I like to write and just ponder my heart out while writing .. thanks a lot for your appreciation. Thanks a lot for your valuable suggestions and guidance... Thanks......... thanks........ thanks......... :)

• Delhi, India
16 Jun 07
Touch, but I can say ....that you are good 'writer' you know very well how to pen down your feelings and thoughts. It is always nice to read such kind of quality posts, as you have written. Now a test question for you....on the topic of "Trust". After our very brief interaction....do you feel that I can be trusted as a friend? I would like to hear from you even if in few words. Have a Good Day! deepak


• India
18 Jun 07
Hello touchshine, seeing you after many days. Trust is something personal. There are some people who trust other people easily, and there are some which take a long time to have some faith in other one. It also depends upon the kind of relationship you have with one another. I never trust people to an extent which if he breaks the trust,its gonna affect me a lot. Trust goes hand in hand with other emotions like love,faith, attraction etc. Also we tend to trust people whom are trusted by our parents and other family members. But we tend to think a lot about people those who are not knowing any one else in our family. If you are talking about trust in relationship between lovers, then nobody can be sure about it. He/she can break that at any time, and till that time we keep on saying i trust her/him 100% and when we are betrayed we say i dont trust him/her anymore. This was all about you keeping trust over other people. When it comes to people keeping trust on you, then its well said already that trust has to be earned. You have to prove that you are worthy of his/her trust and then people will trust you. You just cant expect anyone to trust you deeply without judging you first. I think time also play an important role, i mean i have a friend, i am 21 and our friendship is 20 years old, guess what kind of trust we will be sharing with eachother. I have some school friends which i know for very very long since i was jusr 4-5 years old, so time also matters. Have a nice day! Bye.

• India
18 Jun 07
Dear federickp Yes dear .. I was very much inactive on mylot .. as because I was busy in other work .. but whenever I get enough time .. I make it a point to log into mylot .. because I really like mylot and my friends of mylot .. Well many thanks for sharing your views on trust :)

• India
19 Jun 07
ho ho ho!! dear, i told you i was irregular on mylot, i thought you were regular (& missed me!perhaps!eek!) , but anyways you were also irregular. Forget it, enjoy whatever time you get in here. Have a nice day! Federick.

• India
22 Jun 07
Oh lolz .. so we both are irregular here .. but yes I miss my friends of mylot .. so that's why I come to mylot

• India
20 Jun 07
Among the three factors; "Belief, faith & trust" the factor 'Trust' is more vital and strong. One may believe but may not have faith. One may have faith but may not have trust. That is I may say that 'Trust' is a higher form of faith, which carries some dependability with it also! It is the only quality of higher faith that binds all of us with family, friends and society. If it is unstable, then there remains no real relationship among persons. "Develop and nourish a trust, as tiny as the size of a particle of dust. And be sure it will, take you up to the height of a hill!" Thanks.

• India
22 Jun 07
Dear Mitraa Thanks a lot for sharing your views :)

• India
20 Jun 07
One of the keys to rebuilding trust has more to do with what happens after one or both of you apologizes and says "I'm sorry" than the apology itself. We've all heard the saying, "Actions speak louder than words" and this is especially true when it comes to rebuilding trust. When there has been an acknowledgment of wrong-doing or if one person has hurt another in some way, there are some things that both people can do to rebuild trust. Here's what we suggest for the person who feels they have been hurt: 1. After the apology, be clear about what actions you would like the other person to take to make amends. 2. If the other person is willing, make an agreement about these actions and how this situation will be handled in the future. 3. Be open to the possibility that no matter how this person's conduct may have been in the past, this person may change their behavior. Be willing to give up the "victim" position and the desire for making them pay for what they've done. 4. Watch for positive actions by this person in the future and let them know how much you appreciate it when they've "done it right."

• India
22 Jun 07
Dear asmurthy Thanks a lot for sharing your views :)

• Canada
16 Jun 07
I think you are not alone in this. I have seen people very innocently trusting others in essential matters of life. They are so by nature. I also know that if one gets hurt because of being credulous, he or she eventually gets compensated in some other ways. God is great. This is similar to giving charity. If you give $1 to someone, I am sure you will be rewarded by $2 in some other ways. Keep heart and you will have the last laugh.

• India
16 Jun 07
Dear asahibza Thanks a lot for sharing your views :)

• India
15 Jun 07
There is no straight formula to resolve your questions.It all depends upon the people and circumstances.Nice discussion.One thing I know -I can be trusted

• India
16 Jun 07
Dear cosmopolitan Thanks a lot for sharing your views :)