Crackers and cheese or crackers and dip....which do you prefer?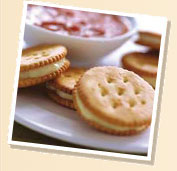 United States
June 19, 2007 7:17pm CST
It's after 8pm and all of a sudden I got the munchies very bad! Usually I have a bowl of cereal around this time of the night but I felt like I wanted something different so I chose crackers and vegetable dip. It's the Philadelphia Garden Vegetable cream cheese and it's doing the job. I really prefer to have small slices of cut up cheese with my crackers but unfortunately for me I am out of cheese. Do you enjoy crackers and cheese or dip while your watching tv on the pc and just feel like snacking? Of course I would much rather have a big chocolate bar but I have to watch my weight so I don't keep them around and the cheese and crackers are fat free and good for me. Which do you prefer cheese slices or dip with your crackers...or do you like jelly? That would be my third choice!
2 responses

• Australia
20 Jun 07
I like both cheese and dip. Also like to have cabanosi with it. gherkins sliced up as well. mmmmm yum. I am getting hungry. Dont like jelly though. I like chocolate, but try not to have much. Well, best wishes, and i might have to go get a snack myself

•
20 Jun 07
Well I am in between I LOVE regular cream cheese on Ritz crakers, LOL, so BOTH! However, that Garden Vegetable cream cheese sounds really good right now. Man your gonna cause me to go to the store aren't ya? LOL