Happy Birthday, Garfield!!!

United States
June 19, 2007 10:38pm CST
I just realized a little while ago that today is June 19. It's Garfield's (my favorite comic) birthday today! He's 29. Have you seen his comic today? Here it is: http://www.garfield.com/comics/comics_todays.html -santuccie P.S.: Laughing at dumb jokes is still good for your health!!!
3 responses

• Philippines
14 Jul 07
How sweet. Very nice. You really know his birthday. I know I found this discussion a bit late but not too late to great him a Happy Birthday. Did he have a huge celebration? Im sure some people would celebrate his birthday big time becoz anyway, he is a real superstar.

• United States
14 Jul 07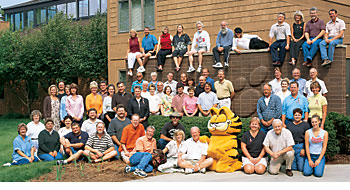 I wonder the same thing. I'm sure someone must have celebrated his birthday; at least Paws Inc. must have!

• United States
20 Jun 07
He's my favorite,I did not know it was his birthday.Happy Birthday Garfield,you share your birthday with a very special sister of mine.I am going to say Happy Birthday to her too.Happy Birthday Judy.I have his movies,and stuff animals.

• Cebu City, Philippines
20 Jun 07
Happy birthday garfield. He is my cutest and favorite cartoon character. I didnt know it was his birthday. Thank you for the information.