Do you enjoy wildlife?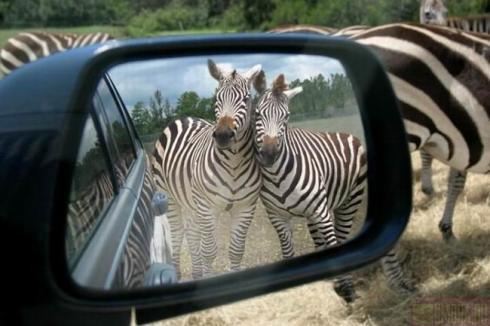 South Africa
June 21, 2007 7:45am CST
I came across this photo this morning, and had to share it. It's funny in a way, but I think zebras are just beautiful. I've seen on a wildlife program that they paint the tour busses an landrovers with zebra stripes. Can anyone tell me why? I asume it's to let the vehicles blend in and not upset the animals, but why zebra stripes? - Ronelle
5 responses

• United Kingdom
22 Jun 07
I really love watching wildlife. When I travel to some countries it is partly for the reason of seeing some wildlife. I also think safari buses have stripes to blend in and not upset the animals. When I was in Kenya I saw a pair of lions eating under a tree. They looked very content and hardly noticed our safari bus watching them, or taking lots of photos. The safari bus suddenly stopped and the guide asked us to look. Look where? Up in the tree, hidden way, by all the leaves, was a leopard sleeping. So again, he was not disturbed by our safari bus. When I was in New Zealand I was lucky enough the see a fairy penguin quite unexpectedly. I was doing some sand boarding, when I noticed a black spec in the sea. Was it a shark? No! It was a penguin. Wow! Snorkelling is one of my favourite things to do when I go somewhere that has a coral reef. I went to Australia's Great Barrier Reef, where I saw the most amazingly beautiful coral and brightly coloured fish, of all different sizes. Off the coast of Western Australia I swam with a manta ray in quite mercy water. It was so much larger than sting rays that I have enjoyed snorkelling with. In French Polynesia I met many friendly sting rays basking in the warm waters. I have seen quite a few sharks. The first were black tipped ones. The most gentle that I have seen were nurse sharks in Belize.

• South Africa
25 Jun 07
Wow, maximax8. You are really well travelled. It must be amazing to experience all that! In my profile I've downloaded 2 amazing photos taken off the Cape coast of a great white. They're quite a tourist attraction in South Africa, using the shark cages for people to get a good close-up. I'm a scaredy cat, so you wouldn't find me there...lol - Ronelle

• United Kingdom
24 Jun 07
I love wildlife, but I don't like seeing them incarcerated, I can't bear going to zoos, yes it's great to be able to see wonderful creatures that most of us only see in picture books but when they are put in cages I feel they are trapped, that's why Safari parks are far better. I love seeing exotic animals like koalas and kangeroos and dolphins too


• India
21 Jun 07
Yes,I enjoy wildlife very much as our wildlife plays a very important role in this nature.Wildlife should be conserves as fas as possible because many will animals are being extincted from our planet.

• United States
21 Jun 07
I love wildlife. When I vacation I go to the Tennessee mountains and you see so many different animals there. I have had the pleasure of seeing deer walking accross the street as well as watching them graze a few feet from my cabin. I have also played with a black bear cub while vacationing. I have even gotten to play with a tiger cub many years ago while on a trip to Missouri. I will never forget that. I live in a city and very seldom get to see anything other than a two legged animal. I look forward to my trips into the Tennessee mountains.

• South Africa
21 Jun 07
That sounds wonderfull! It must be amazing to be in the presence of such great animals. I also miss being close to nature, but at least I'm a few hundred metres away from the beach. We went camping in the Drakensburg mountains last year, and it was fantastic! Really need a holiday now....- Ronelle