Peanut Butter

United States
June 21, 2007 10:19pm CST
What brand of peanut butter do you eat? How do you eat it? I grew up eating Jiff Creamy Style.I have tried other brands and found that Jif has the most peanut taste.So,I used it with my kids and still do.I eat it on crackers or white or wheat bread toasted and untoasted.I like it on one piece folded in half,so the peanut butter part is thicker.What about you?
8 responses

• United States
22 Jun 07
I will only by Jiff or the Goobers brand of peanut butter. I can eat generic food with no problem, but no generic peanut butter, mayonnaise, and only pepsi the real pepsi Anything else I can deal with generic brands

• United States
22 Jun 07
I can eat alot of generic food,but not peanut butter or tuna and if it is a cola it has to be Pepsi too.

• United States
22 Jun 07
Oh yes i forgot about tuna, albacore only. I am not a big fish eater anyway so tuna is a definate no generic for me

• United States
22 Jun 07
I really don't have a preference of peanut butter. But I like to make a sandwich with peanut butter, jelly, and butter using 3 slices of bread. I also like to dunk it in milk. I like peanut butter and banana sandwiches too. I also have a great and easy Peanut Butter cookie recipe. 2 cups peanut butter 2 cups sugar 2 eggs Bake the way you do any other cookie. What I like best about this recipe is that you don't use any flour.

• United States
22 Jun 07
I don't like jelly or jam,but I like butter with my peanut butter.I have never had peanut butter and banana sandwiches.But,come to think of it I would probably like it.The other day I was in a store and a Reese's Peanut Butter Cup wrapper caught my eye,because it had a picture of Elvis on it.I read on the wrapper it had banana in it as well as the choclate and peanut butter and it was really good.My daughter loves fresh peanut butter cookies.I like them too,but she loves them.

• Canada
22 Jun 07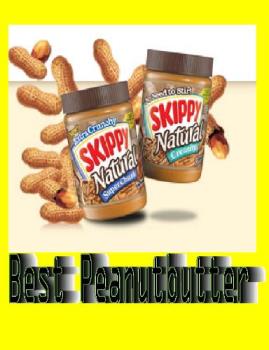 I really like Skippy Peanut butter but only the smooth kind. I do not like when there is peanut chunks in it. It is my all time favorite after that I would have to say I like Kraft.

• United States
22 Jun 07
You are the second person who has mentioned Kraft peanut butter.I never knew they made peanut butter.


• Canada
1 Nov 07
We always use Kraft peanut butter. That is whay my mom used and that is what I use as a mom! I like both chunky and smooth but the hubby hates chunky so we usually get smooth. PurpleTeddyBear.

• United States
25 Oct 07
I get a Teddy Bear brand or some all natural no salt and often no sugar added. I usually have to stir it and put it in the fridge. Then I put it on hot toast with either honey or jam. I like to alt. amoung flavors.

• United States
23 Jun 07
I really like creamy skippy. Thats what we typically buy at home. Also for years I loved Reeces Peanut butter. YUM! I would eat it plain..lol. But I dont see it in the stores around me anymore, maybe they dont make it. I dont like crunchy at all. Usually I eat it on plain white bread. Usually plain, but occasionally with jelly.

• Philippines
22 Jun 07
Oh peanut butter? yes that is so delicious and tastety. I like so very much,like you I filling up with bread.