Anyone else like Russell Brand?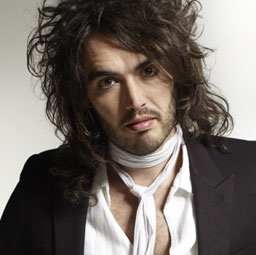 July 2, 2007 5:34am CST
I added Russell Brand to my interests thinking there would be a lot of discussion about him, and There's only one other person who's also added him. I didn't like him when I first saw him as he was in "Big Brothers Big Mouth" and I hate Big Brother and everything to do with it. But later he did his own show and I enjoyed it. I also just started listening to his Radio show on Radio 2 which is good too. You can find it here. http://www.bbc.co.uk/radio2/shows/brand/Do you like his comedy stylings or do you think he's just annoying as I did when I first saw him?
6 responses


•
10 Jul 07
A lot of people seem to find him attractive, I can see why but I don't particularly fancy him. I agree his comedy grows on you, at first he just seems annoying.

•
14 Jul 07
There's a fan website with a great forum if you are a fan here. http://www.russellbrandfansite.com/forum/index.php And I have to add some more pictures of him, if anyone else has any please add them.

•
14 Jul 07
OK I added some more photo's, his show is on tonight at 9.00pm (British time) on radio 2.


• Ireland
29 Dec 07
he irratated me to in the begining.now im mad about him.id definitely have a one night stand with him if my husband would let me

•
2 Jan 08
I'm not sure I'd actually like to know him he seems very self centered, funny comedian though.

• India
20 Aug 07
Hey i dont know much abt him...Caan yu plz say more abt him

•
2 Sep 07
he's a comedian and TV Presenter in Britain though he's now started working in America sometimes too.

•
3 Mar 08
He's an intelligent guy with a very quick wit. But I don't find him particularly funny, actually I think that he is pretty irritating, his voice always reminds me of a male Janet Street-Porter (who I sat opposite on a train once and she didn't sound anything like she does on the telly). Up himself, as my daughter would say.

•
29 Feb 08
I did find him annoying at first but I think that was before he got himself sorted out. Big Brother's Big mouth was the only bb programme I watched regularly purely because of him. I really enjoy his footy column in The Guardian, although non footy fans might not get some of the things he writes about, it's still a very good read.

•
1 Mar 08
He can seem annoying if you don't listen to him properly but when you do you see he's actually quite clever. I've never read is column but I know nothing of football so it probably wouldn't make much sense to me if I did. He's written a book about his life so far now too, I think thats a bit premature and I sense he's only done it so none of the people he's known in his past can sell stories about him.

•
3 Mar 08
You do need to know about football Nancy, obviously being a footy column there will be a lot of in footy jokes you won't get. He is a West Ham fan and has been since he was a boy. I would say he is a proper footy fan, not a celeb who decides to support a team because it's the in thing to do.

•
4 Mar 08
Not being an expert on the Hammers, why does that explain a lot Scoop

•
16 Feb 10
I absolutely adore Russell Brand. For someone who has been through so many addictions, he really has done well for himself. I adore his charisma and his fashion sense is bloody brilliant! My booky wook is one of my favourite books I've ever read. His standups are class and his radio shows are probably the funniest I've ever heard. I'm a massive fan of every thing he does. He's unpredictable, witty and edgy.(And a vegaterian!) What more could one ask for from a comedian!