Great American Bash Lashley Vs Cena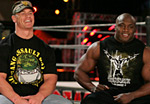 July 3, 2007 10:07am CST
Who do you think, would win, out of Cena and Lashley?Personally I hope it is Lashley, and alothough I can see this, I have a funny feeling that the storlyine writers will do the opposite, but wait and see.
3 responses


•
3 Jul 07
I was so glad when i saw that it was lashley who would be fighting cena for the belt as i don't like any of the others who wanted the number one contendership. I think cena and lashley being the competitors they are will put on one hell of a show for the fans and it oculd go either way to be honest, it depends if wwe are ready to push the title over to lashley and push him a little more, i like both men so i wouldn't be upset to see either win but i will be watching it all, now lets hope chavo looses his first i hate him.

• Philippines
3 Jul 07
This is a great fight! For both wrestlers, i would choose john Cena instead. Based on history, he even depended his belt against two huge wrestlers in the like of Umaga and The Great Khali. I guess, he will not let Lashley take his championship belt. yes its right, we have to wait and see the result. Whoever wins the fight, both of them are deserving for the title.