VEGAN - are you one?

United States
7 responses

• United States
27 Oct 06
I am vegan , we must unite as one


• United States
25 Oct 06
I am carnivore.I like meat.Milk cheese eggs butter and all the stuff that is not good for a person,but thats just me

• Adelaide, Australia
2 Dec 10
I'm vegan, organic too. Went on a macrobiotic diet when I turned 19 & 100% vegan inside of a day in 2000, I think. Initially, it was for health reasons (cancer) at an early age. Later, I needed to be 100% vegan to pursue spiritual practice. There are so many other influencing factors including the environment, animal suffering, world hunger & "over-population" crises that may also have contributed. I also feel a need to live my life the very best way I know how; we do only get one shot at it.

• Gold Coast, Australia
30 Nov 10
I consider myself a vegan although I do have honey. I make sure the honey is from a bee keeper that I can trust though so I am at peace with my decision to eat it.

My health has improved out of sight since I stopped eating meat and dairy. I used to think my health was good and that everything was normal. Now I know that there is a better kind of 'normal'!



• United States
13 Nov 06
I am vegan- went veggie at 13. That was for the love of animals at that time. But I went vegan because of mass prodution of meat, dairy etc... And even with all this farmers are still losing out. I am not an activist but I do tell people when they don't eat organic they are eating antiboitics, pesticides and more of what you don't need. which can also lead to a number health problems.

• United States
30 Oct 06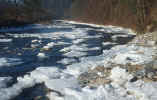 I'm not but I have friends who are. They even make their own milk from soy beans. Frankly, they don't seem to be all that healthy. They are always coming down with colds, have lots of allergies and just seem fragile. That could be just because of their personalities and not because of their diet. But I need my eggs and cheese and bread. I couldn't go vegan.