The movie about the downfall on healthcare -- Sicko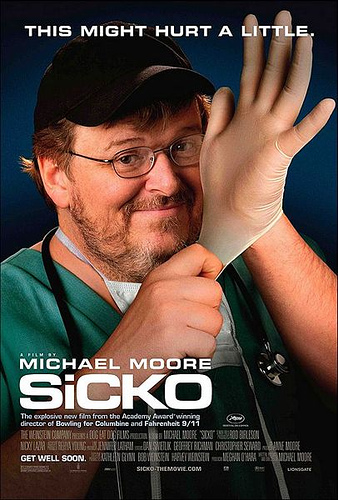 United States
July 8, 2007 10:44am CST
I have watched this movie twice and all I can say is I was shocked! Imagine over 250 million people in the United States are covered with medical and health insurance yet some of them get denied for their treatments? Imagine for the United States to allow free medical coverage to Iraqi Terrorists while Americans are being charged thousands of dollars for treatment and medication. I can relate to this as well since back when in 2005 I got denied treatment from Bluecross of coming down with Bronchitis. For those who have not watched this movie yet -- I highly recommend that you do! If for those that have watched it already -- What can you say about the movie?
2 responses

• Lancaster, New Hampshire
8 Jul 07
I can say quite a bit about it actualy. but for the purposes of this post I'll keep it limited. first off if blue cross denied you coverage for thattreatment, why? what was the reason given? even so, blue cross denied payment, but that doesn't mean you could not be treated. There is a greatdeal of mis information in this movie, Michael Moore is famouse for this type of thing. Personaly too, i think he should be tried for his little excursion to cuba, he did in fact break the law. Also, what he doesn't tell you and not a lot of people know, it is ILEGAL for a hospital in this country to deny treatment on the basis of ability to pay or not. Another thing he fails to mention is that medicaid is availble to a great number of people who NEVER apply for it, leaving themselvs and their kids not covered and giving the apearence that this country denies medical treatment to a great many. In addition to this federal program, many hospitals have programs and funds available for people who can not pay for their treatment. Most people never seek these out or ask about them so they go uncovered.I have never been refused treatment for anything. The worst case scenario I have ever encountered is being taken to court to collect on an unpaid hospital bill, you know what came out of it? I paid 5 dollars a month on it and eventualy the hospital wrote the rest off and I STILL get treated with out question. As for the wonderful medical center that Mr Moore brings the 9/11 workers to, you can be CERTAIN that this is not the typical thing an average cuban sees when they seek treatment. Why is it that thousands die every year trying to reach our shores? if the system there is so wonderful, then why do people come here? As for our system, I hear a great deal of outcry for a national healthcare system, a socialized medical system run by the government. Tell me something, do you REALLY want to trust your health and the health of your children to the GOVERNMENT? OUR GOVERNMENT? Look at everything else they get their hands on, you see how well they handle things as it is. Do you want the tax rates people pay in europe and canada? do you really want to put on a waiting list for treatment for something? Only to find that when you get the treatment it isn't what it used to be because healthcare has been rationed and the system is so bloated and expensive to run that the money to keep the technology up just isn't there any more? The simple fact is our healthcare is of the best quality in the world because the government is not involved. it may be the most expensive but Ive said time and time again, you get what you pay for. In many national healthcare systems around the world, did you know it is ILEGAL for you to pay a doctor out of your own pocket for treatment if you can afford to and choose do so? Is this REALLY what you want in this country? Please people, THINK. REALLY REALLY think about the consequenses and not just the hype and catch phrases and cliche's you see in a movie or in the national and international news. This movie is pure garbage just like the rest or Mr Moores MOCKumentaries. If he dislikes things in this country so badly and thinks places like cuba are so wonderful, then he should justleave the country and move there. I'll even buy his ticket for him. Leave our healthcare system private!!!!!!

• United States
21 Aug 07
I haven't seen the movie but couldn't agree with you more about NOT involving the government in our healthcare. They have already screwed up so many other things. Actually, the government is somewhat involved in my healthcare because I am low-income. To find a dentist that takes my family's insurance- we have to wait at least 6 months from the time we call to make an appointment before we can be seen. As for doctors- we can go to practically anyone in the area, which is nice. My boyfriend, on the other hand, who is not covered by government insurance can go to any number of dentists that take his insurance. He does pay through the nose for it though.

• United States
9 Jul 07
Michael Moore takes a subject and creates facts and leaves out information in order to suit the entertainment purposes and shock value of the film..NO ONE should ever take his word for something and if anything take the film as an inspiration to investigate yourself because he is 80% full of crap usually.