What kind of handwriting do you have?

United States
July 8, 2007 2:40pm CST
Is your handwriting perfectly written or is it hard to read your handwriting? Have you ever tried to use the paintbrush on the computer to write with? What do you think of it? I tried to write with paint brush and it sure doesn't look like my handwriting.. Usually my handwriting is quite readable.
4 responses

• United States
14 Jul 07
I used to have really nice handwriting, but the past few years when I try to write t gets really messy and doesn't look nice like it use to. Its legiable still, but not pretty like it used to be. Yea when I tried to write with the paint brush it doesn't look anything like my normal handwriting either. Its very messy and yucky looking. lol

• United States
22 Jul 07
I think the pace we find ourselves in often times affects the appearance of our handwriting. Have you changed occupations lately?

• United States
22 Jul 07
No, I think a lot has to do with that I just don't write much anymore. I usually type everything. So my handwriting skills kind of went out the window.

• Philippines
22 Jul 07
well i am used to script writing. my penmanship is not that good. my kind of writing is very simple. my writing can be compared to a font that looks like it came from a high school student's script writing.

• United States
22 Jul 07
THat is not so bad a description of your writing: "a high school sudent's writing" Lots of high schoolers have very beautiful writing.

• Uruguay
9 Jul 07
My handwriting is far from being perfect. It's easy to understand, but it's not nice. When I see some people's handwriting (my mother's, as an example)I can say it has beauty, it's a nice caligraphy. I don't dare to imagine how would my handwriting look like with paintbrush!

• United States
22 Jul 07
Glad that you have a artistic handwriting.. I don't have one so gifted..but when I take time ..it's legible.

• Cambridge, England
8 Jul 07
I pride myself on being able to write a fair hand. Unfortunately, over the years it has degenerated rather, especially when I am writing quick notes! I can still take extra time, though, and produce good writing (which is really 'lettering' rather than 'handwriting'). Writing with the mouse and paintbrush on a computer screen is very difficult! It is a great deal easier if one uses a graphics tablet because then one is holding a pen and writing on a small pad, so it is more natural. A great deal of neatness in writing is due to the discipline which a good pen nib gives. It is much easier to write legibly if one uses a square edged pen which gives thicks and thins and tends to help the hand make the proper shapes. Using a ballpoint tends to go against good handwriting because there is little difference in feel whichever way one moves it.

• United States
8 Jul 07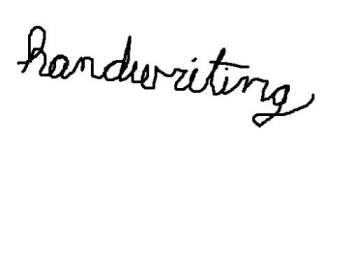 I agree..using a mouse is very difficult..as I am putting a picture here of my feeble attemp to writing in cursive with the mouse..It really does not work like you pen you hold in your hand.