what's the best sleep pose?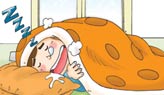 China
5 responses


• China
11 Jul 07
It's said when you sleep rightward, heart is in a hihr position that blood can flow easier to the whole body. It can alleviate the heart loading.

• United States
10 Jul 07
im a very fitful sleeper. i cannot fall alseep unless im on my right side. however i only sleep for about 15 to 20 mintues..then wake up and cant go back to sleep until i turn to my left side. weird i know. then after i wake up early in the morning to use the bathroom i have to lie flat on my back to fall asleep again. lol

• China
11 Jul 07
Comfort is the key point of sleep. Thanks for your response !

• New Zealand
15 Jul 07
Hi there. I tend to sleep on the side my heart is on, my left side and I will sleep comfortably in this position all through the night...

• Malaysia
11 Jul 07
i prefer the crouching tiger, hidden dragon pose...