Happy Birthday Ernest Hemingway!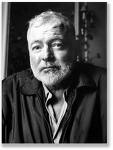 United States
July 17, 2007 8:34pm CST
Ernest Hemingway's birthday is July 21, 1899. He won the Nobel Prize for literature in 1954. He was one of the biggest influences in American literature in the 20th century. For me, he was one of the biggest influences for my own writing. What are your favorite Hemingway works? Do you prefer his short stories or novels? What have you read by Hemingway?
2 responses


• United States
20 Jul 07
That's my understanding. The place in Key West keeps a tom & a couple of queens intact & fix the rest. They make sure that the ones they keep for breeding have strong polydactal genes. Even by keeping only a few intact they still have a lot & I have heard that some kittens find new homes (not necessarily with the permission of the museaum.)

• United States
18 Jul 07
I like many of his books, my all time favorite is The Old Man and the Sea. The Old Man and the Sea is about his close friend, who like Hemingway had passion for fishing. The second on my list is Green Hills of Africa and third For Whom the Bell Tolls.

• United States
20 Jul 07
Love all the books you mentioned. Each time I go back and read one of his works, I see something new. I especially like his short stories like "The Snows of Kilamanjaro," "Hills Like White Elephants," and "A Clean, Well-Lighted Place." Thanks for your response! Have you read any of his memoirs or memoirs written by family members? There's a wonderful one called Hunting With Hemingway. It was written either by a niece or a granddaughter. She found tapes of him chatting with friends at Sloppy Joe's and transcribed them into a memoir and also included her own memories of Papa.