What toys/games do you keep in the diaper bag?

United States
4 responses


• United States
29 Jul 07
Books are a great idea. I have some smaller books i could take. Thanks!

• Panama
29 Apr 08
Well I try to put little trnkets that distract the baby. Also I put in there a coule action figures, just so they can play with ir for a while. The diaper back that i just recnetly bought is excellent. You can buy one to at a great price. CHECK OUT THIS STORE www.blackdiaperbags.com

• Australia
30 Jul 07
I always have my daughter's favourite rattle, she's had it since birth & is very much attached to it, a couple of board books, her favourite doll & teddy are in there too - only because they're not real big! I have plenty of room in the nappy bag now coz she's less messy than she used to be so we don't need clothes changed as often, less nappies need to be brought along as well! That's about all i can think of for the moment.

• United States
30 Jul 07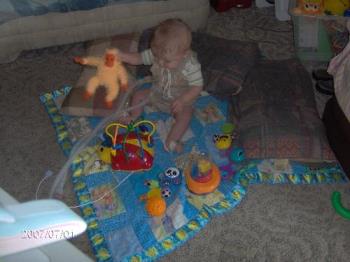 Well, my boy just really started concentrating on toys. Now I carry his favorite stuffed animal (a bright orange monkey beanie) and his favorite taggy blanket, and normally a few rattle type things. I'm attaching a picture of the orange monkey.. it's too funny!