You are the CHOSEN ONE!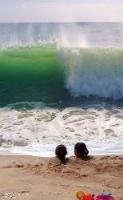 Philippines
October 25, 2006 9:22pm CST
if one day, someone approaches you and tells that tomorrow is the end of the world. Out of the millions of people in this world, you are the only one who knew what will happen tomorrow. Granting that this prophecy is TRUE. What will you do? Please consider all the effect(s) or cause(s) of your decision. Will you tell your best friend? your family? your enemy? Do they believe on you? Chaos? Nice thinking, yourbestmate
6 responses

• United States
26 Oct 06
this is a really good question...how many people have you seen with the end of the world signs and ministers preaching about the end of the world...the fact is ...no one would believe you...they didnt believe CHRIST...why would they believe you?..granted many people believed CHRIST...but you are not equipped with his wisdom...his ability to heal and perform miracles.....truth is ...no one would believe you...even if you managed to get on television...so i guess my answer to the question is to go to the center of the city...and post a big sign telling of the circumstances and calling my family to inform them (they wouldn't believe you either) , then get down on my knees with my son and pray.
• Philippines
27 Oct 06
I agree with you sweetpea21, no one will believe on you, even your family. Its a worderful idea to pray. Better to pray those people who do not believe CHRIST.
• Philippines
27 Oct 06
how about your family im_vjy? will you not tell them about the prophecy?

• United States
6 Nov 06
Well, if it was to be an unavoidable end, with no survivors, I wouldn't tell anyone! And would spend the day with my family. If there was possibility of survival, I'd tell as many as I could, starting with loved ones, to go underground with a gallon of water and jar of peanutbutter (or something) or whatever one could gather together and get to a 'safe' place in time.. Seal off yer basement, if nothing else, and wait it out..

• United States
26 Oct 06
Well I would tell first to my loved ones...Then to friends...Then to everyone else...If someone won't believe me, that is his personal problem and I don't really care about it!!! I think that what I would do!!!