when was the last time you heard a kid say yes sir no sir

United States
July 29, 2007 7:31am CST
it is something that you really dont hear that often anymore. i mean most parents dont teach there kids to sy it. as mine get older i notice this with there friends. i dont hear it often at all. my kids say it cause well i get on to them over it. it is just respect to me. i was brought up by my grandparents for the most part and it was just something i was told to do. i was thinking of this yesterday when i had a house full of kids every where and i was talking to them and telling them to do certain things etc and they were all ok, yes, yea, etc. do you teach your kids to say it or is it just a thing of the past to say it. when was the last time you heard a kid say it or even an adult. if you hear it alot where do you live like state or country. maybe it is just in the states that parents stopped teaching there kids to say it.
9 responses

• Canada
29 Jul 07
My 6 year old says to it me but he thinks it is funny as all heck. It is usually done when I tell him to do something and he'll say "Yes Sir" and put his hand to his forehead like in the army. He does the thing I want him to do so I don't really care if he is calling me a man. It's all in fun anyways. I don't teach them to say it I guess because I wasn't taught to say it either so it never was a habit to pass on either. Vicki

• United States
29 Jul 07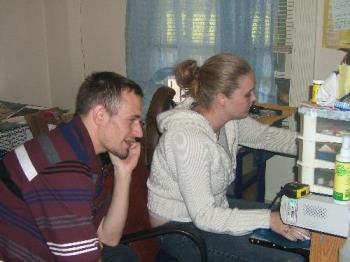 You may not consider this a "kid" but my son always says sir and ma'am to everyone. Of course he's 31 years old but he has always been that way. I remember taking him out to eat when he was 12 and he referred to the waitress by her name from the badge she was wearing and she thought that was wonderful. I'm still very proud of him.

• United States
29 Jul 07
We don't hear it often enough from our children unless prompted. No matter how much we try to teach our 9 year old son, because he doesn't hear his friends say it, he doesn't think he has to. Well actually, last night, my husband told him it was time to come in, he turned around and said, "yes sir, I'll be right there". We both almost fell over. It was nice for a change though.

• United States
29 Jul 07
Classes are about to start again, and in a few weeks a couple guys from Texas who are sons of my dad's friends, are coming down to come here for their second year of college. They do some work for my dad as well. They always say 'yes sir' or 'yes maam.' I'm 6 years older than they are, and until last year, they called ME maam. They are 19 years old and the most respectful guys I've ever met. Maybe it is the country in them, but if it is, then God bless country boys!

• United States
29 Jul 07
My kids say it all the time, it is unacceptable for them to say anything else. It shows respect to elders, something most our country's children have lost. If my kids say anything else, all I have to do is give them that "sistah" look and they quickly correct an obvious mistake. I cannot stand to here a kid say yah, no, huh, why, nope. It's good to see somebody else was brought up with those values too.

•
29 Jul 07
When I was younger, I always said yes sir, no sir or yes ma'am, no ma'am all the time. But it seems these days I don't really use those words any more. I know that a lot of young people these days never bother at all to say those words and they are kind of not as respectful as we used to be when I was their age. We referred to our teachers as sir or ma'am in the school I attended.

• United States
29 Jul 07
I know that children from proper families and from the south say that that, but here in California, I rarely ever hear a child say "Yes sir!", "No sir.", "Yes ma'am!" , or "No ma'am.". Children should be taught that, but then I guess that parents think that that is what the Army is for.

• United States
29 Jul 07
It is really sad that there seems to be an entire generatoin of children who are so unappreciative. I can tell you for sure that I don't hear 'Thank You' very much anymore. I am very active in my teen children's activities and they frequently have other teens to our home. I seldom hear 'please' or 'thank you.' I teach at the college level and again, I seldom here either 'please' or 'thank you.' I noticed this past halloween as I stood and handed out candy, that only one or two parents of the very young children encouraged the child to say 'thank you' after I dropped the candy in their bag. I don't know why it seems that good manners are becomming a thing of the past. (oh, I live in teh US..)

• Canada
30 Jul 07
It's funny you should ask!!!! I can think of two times recently where I heard the word "sir." My fiance is a few decades older than I am, and has grown children. One daughter's now ex-boyfriend, used to call him "sir" when he was trying to suck up. My fiance told him "My name is....and that's what you need to call me. None of this 'sir' crap!" He's pretty laid back. Now another daughter introduced us to her boyfriend, and the same conversation played out. This gentleman (and he is!!) is much nicer than the guy my other step-daughter-to-be dumped, but my fiance still doesn't like being called "sir."