Developer To Revitalize New Orleans Area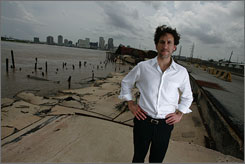 United States
July 29, 2007 3:40pm CST
Developer Sean Cummings who is a native of New Orleans is set to unveil his plan to construct a five mile project that will connect New Orleans with the Mississippi River. His plan include a multimillion dollar hotel, bike trail, and jogging path. There are some who are for this project as they think it will infuse new life into the economy, while there are others who think that it will gentrify some of the historical parts of the city which is famous for its charm. I think that whatever will help the economy and bring people back to New Orleans will be a positive thing.
2 responses

• United States
29 Jul 07
Good for him and any others that want to bring the economy back to where it should be. It's a beautiful city that deserves to be back to normal where people can visit and others can make a living. I think it's a positive beginning.

• United States
29 Jul 07
I wholeheartedly agree, jillhill, because New Orleans has had a glorious past that deserves to be resurrected. I have never been there but I know people who have, and it has made many contributions to our society. I have loved reading about New Orleans for many years. I really want to see it brought back.

• United States
30 Jul 07
While I think any help New Orleans can get is a good thing. I would hate to city loose its special charm. I have been there twice (before the hurricane). The city had an atmosphere and charm like nowhere else on the earth. I would hate to see it loose it uniqueness in the name of progress.