my dog is such a smarty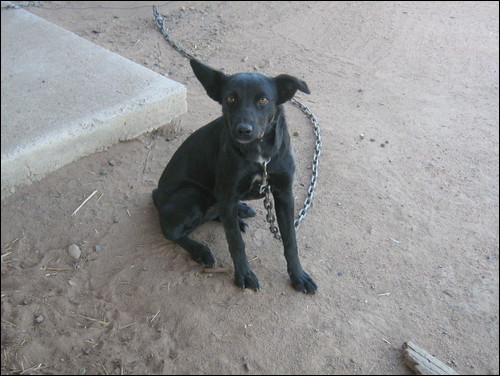 Australia
August 3, 2007 2:22am CST
i so wish i had a video camera today. bundy was such a good girl with the cows i was so proud of her. she did most of it on her own. my partner said to her "speak up" and she went woof woof.. i just went oh my goodness she is so human like. one of the cows decided to break out and run so she quickly went after her and put her back in her place (this cow if fairly wild cow as well) when she finished and we got back to the house she went and had a swim (thats not so smart since its so freezing here lol but she loves water) bundy is not quiet 12 months old yet. and hasnt had that much training... i just so proud of her. just had to vent that i have such a good dog.
6 responses


• Australia
4 Aug 07
i got told her breed is black barb kelpie, she is full kelpie.

• Australia
4 Aug 07
Ok, I have never heard of that before.....But if she is a Kelpie...She is a very natural smart dog anyway, they thrive off having chores to do and are overly keen to learn new things, you'll be surprised with what she comes up with, usually learning after just once being told..

• Australia
11 Aug 07
im always surprised with the things she has been doing lately, im very proud of her. kelpie is such a smart breed.


• Philippines
10 Aug 07
Dogs are really wonderful creatures. They are very smart and they could have their own ways of expressing what they want. My dogs were like your dog although they are all gone now. They act and sometimes think like human beings. I also salute them for their loyalty and versatility. They are very useful creatures.

• Australia
11 Aug 07
dogs are so human like, thats why i treat mine like humans


• Australia
3 Aug 07
he sounds beautiful, I have never actually seen a working dog in action, I think animals are very clever if they are given the chance, I have seen film clips where the dogs take command on a whistle from the master, that is so cool, oh animals are just so beautiful.

• Australia
3 Aug 07
she is very beautiful. its good and fun to watch they put a smile on your face thats for sure....thanks

• Philippines
3 Aug 07
talking of your dog made me miss my dog so much...anyways you sounded like you really love her so much which I guess made her develop her mind early than you expected.. because a friend I know taught me before when I had a dog that no matter how tough I train my dog to be what I wanted her to be..it'll be useless without love. Dogs or other animals can be like humans too, if they are filled with so much love and being nurtured well, they tend to understand us... :)

• Australia
3 Aug 07
i do have to agree with you, when you show your dog love they do act so much differently, i know some people dont show their dogs love and they are so different. she is very spoilt. we only have her now, and my partner calls her "his girl" lol.. we both love her dearly... thanks