Do you make Pizza at home? Gimme the recipe please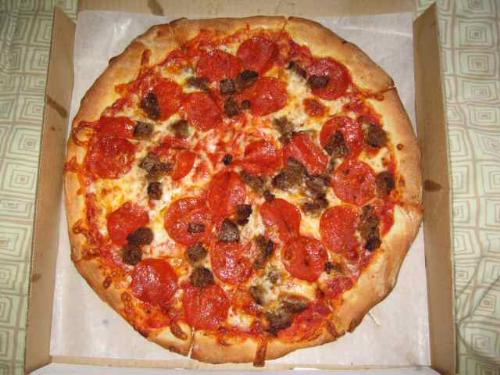 India
August 5, 2007 11:21am CST
I've never made pizza at home, but am keen to - as my wife says it is easy. Have you ever made it at home - what toppings did you have and how was it? Care to share the recipe? And what do you prefer= homemade or ordered pizza??!!
8 responses

• United States
20 Aug 07
My personal care assistant made me a BBQ chicken pizza, with peppers, mushrooms, and two kinds of cheese! I was in pizza heaven and, yes, it was pretty easy. Based on that experience, I would say homemade is better.



• United States
5 Aug 07
we do both but since money is tight we make them more then anything lately. we use the pakage pizza crust that you have to mix and roll out and then just add stuff that we like. we add tomato, suages, bacon, peppers, onion, mushrooms, garlic, all kinds of things. then sometimes i do a breakfast one to where i use biscut mix instead and gravy insted of sauce, then scrammabled eggs, ham, onion, all kinds of breakfast stuff. but i love delivery pizza lol no mess

• China
17 Aug 07
I also like making pizza myself,because own making pizza can put I like seafood stuff and capsicum,haha,again put more cheese,I very like to eat cheese.

• Philippines
24 Apr 08
i usually do this at home especially if i'm really short and budget

Ingredients: pan de sal, split in halves 2 tbsps. of pasta sauce for every half-piece of pan de sal chopped onions, optional chopped bell peppers, optional grated cheese Assembling the pizza pan de sal: I don't recommend ready-to-pour pasta sauce in pouches. If you don't have a tried and tested pasta sauce, you may this or this. I don't recommend either that you go through all the trouble of cooking a pot of pasta sauce just so you make make some pizza pan de sal. When you make pasta sauce, make a lot and set aside some to make pizza pan de sal. Chopped onions and bell peppers are optional because home made pasta sauce has enough onions and bell peppers. Add them only if you want some crunch in your pizza pan de sal. Toast the split pan de sal in the oven for about two minutes. You have to pre-toast the bread so that they form a crust on the surface. Remember that unlike uncooked pizza crust, you are using ready-to-eat bread. Unless you toast the pan de sal, they will get soaked with pasta sauce and they will turn soggy and difficult to handle. When you've toasted your pan de sal, spread the pasta sauce over them. Top with chopped onions and bell peppers, if you prefer, then add the grated cheese on top. Toast for another minute or just until the cheese melts. Eat as soon as they are cool enough to handle so as not to burn your hands and mouth.

• Philippines
24 Apr 08
if it would be too costly for you to bake the crust, you could use just a simple loaf of bread. just spread it with pizza sauce, then you could add any topping you like such as pepperoni/ham/or anything that's available in your fridge, top it with pineapples and sprinkle with grated cheese. it's your choice. then put it in an oven toaster.after a few minutes you can enjoy your pizza.

• Philippines
1 Feb 08
try this one..my favorite from allrecipes.com Homemade Pizza Supreme SUBMITTED BY: Gaylene Anderson "Even if you've never made pizza from scratch, I hope you'll try this recipe. it's the highlight of my favorite casual meal. You have to plan ahead to allow rising time for the dough, but it is easy to work with and the crust is so good." INGREDIENTS * 1 (.25 ounce) package active dry yeast * 2 cups warm water (110 degrees to 115 degrees) * 3 tablespoons vegetable oil * 1 1/2 teaspoons salt * 4 cups all-purpose flour * SAUCE: * 2 (8 ounce) cans tomato sauce * 1 1/2 teaspoons grated onion * 1 teaspoon dried oregano * 1/4 teaspoon salt * 1/8 teaspoon pepper * TOPPINGS: * 4 cups shredded mozzarella cheese * 4 ounces Canadian bacon, diced (optional) * 1 (3.25 ounce) package sliced pepperoni * 1 medium red bell pepper, sliced * 1 medium green pepper, sliced * 1 (2.25 ounce) can sliced ripe olives, drained * 1 cup chopped onion * 1 cup grated Parmesan cheese * 1/2 cup minced fresh basil number of stars READ REVIEWS (22) * Review/Rate This Recipe * Save To Recipe Box * Add to Shopping List * Add a Personal Note * Post a Recipe Photo * Post a Favorite Food List * Create a Menu DIRECTIONS 1. In a large mixing bowl, dissolve yeast in warm water. Add oil, salt and 2 cups flour. Beat on medium speed for 3 minutes. Stir in enough remaining flour to form a soft dough. Turn onto a floured surface; knead until smooth and elastic, about 6-8 minutes. Place in a greased bowl, turning once to grease top. Cover and let rest in a warm place for 10 minutes. 2. Combine sauce ingredients; set aside. Divide dough in half. On a floured surface, roll each portion into a 13-in. circle. Transfer to two greased 12-in. pizza pans; build up edges slightly. Bake at 375 degrees F for 15 minutes or until lightly browned. Spread with sauce; sprinkle with toppings. Bake for 15-20 minutes or until cheese is melted.