Biting wit comes at Vick's expense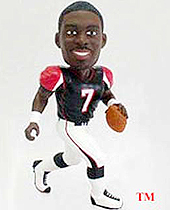 United States
August 7, 2007 6:02am CST
Fla. company marketing dog chew toys in QB's likeness Hey dog lovers, chew on this. As long as some of the proceeds go to some type of animal cruelty/abuse orginazation and the toys are safe I'm OK with this. What do you think??The latest creative entrepreneur trying to capitalize upon Michael Vick's legal woes is selling — that's righ —, Michael Vick chew toys for dogs. Get it?We weren't able to reach anyone from the corporate headquarters of www.vickdogchewtoy.com, which is apparently a Jacksonville, Fla.-based enterprise. But the creative minds behind the merchandise are clearly troubled by Vick's alleged involvement in dogfighting, as evidenced by the polemic on the Web site."Now a new type of retribution has been created to give every dog a little pay-back," the site trumpets. The items sell for $7.99 and look an awful lot like Michael Vick; right down to the No. 7 jersey and the close-cropped hair. The figures are billed as being made of "state of the art dog material."No word on what that is, by the way, but the toys promise to stand up to any hound's choppers: "The Vick Toy Doll is so strong and flexible, it will challenge even the most aggressive breeds. Especially the pit bull."The Falcons quarterback, who has pleaded not guilty, faces trial at the end of November. The chew toys are but the latest in a stream of Vick-related opportunism. One eBay seller is hawking a "Dog Fighting Special" Michael Vick jersey for $6 (it's just a plain old jersey), while some class act is hoping to rake in close to $30,000 for the domain names www.MichaelVicksDogFights.com and www.RonMexicosDogFights.com,"It's all about the Web and what I'll call 'Weblebrity,' says John C. Adams, a visiting Department of Communication professor at Hamilton College in Clinton, N.Y. "The Web has so many possible ways of cashing in on a person's current fame — or infamy. Vick's miseries are a timely topic; the Web enables anybody with a computer and an Internet connection to immediately publicize anything that's currently hot or not."Proceeds of the questionably hot Vick chew toys reportedly will be given to the Jacksonville Humane Society, where spokeswoman Chere Garrard says she's getting calls from all over the country, but hasn't actually talked with anyone from the Vick chew-toy outfit. The organization could certainly use the cash. An April 7 fire sparked by an electrical problem destroyed the facility, and 86 pets perished, she said."We have not had any conversation with them," she said of the potential Web-based benefactors. "We are very interested in chatting with them."Find this article at: http://www.ajc.com/sports/content/sports/falcons/stories/2007/08/06/0807_chewtoy.html Photo: Bite on This!
5 responses

• Australia
8 Aug 07
I don't know who you are refrring to here, with Micheal Vick, etc. I looked at the link you provided though. A good toy for a dog!!

• United States
8 Aug 07
He is a famous NFL footballplayer who was indited on fighting charges. He is a link to the story. http://www.cbsnews.com/stories/2007/07/17/sportsline/main3067633.shtml

•
7 Aug 07
LOL how funny! Yep if it's going to go to the animal shelter I would buy a chew toy, but...since they siad they have not heard from that company, I doubt it will. I say donate to your local animal shelter in the name of this jerk, if anyone really wants to help.

• United States
7 Aug 07
I noticed that too but maybe it will give someone else the idea to do it and all the profits go an animal shelter.



• United States
7 Aug 07
How wonderful, it couldn't happen to a nicer guy...lol. It sure does make a statement about how people feel about Vick and his sctivities. He deserves whatever he gets and probably more too.

• United States
25 Aug 07
Thanks for the Best Response vote...very much appreciated...:}