BB8 Usa:Ok something has got to change!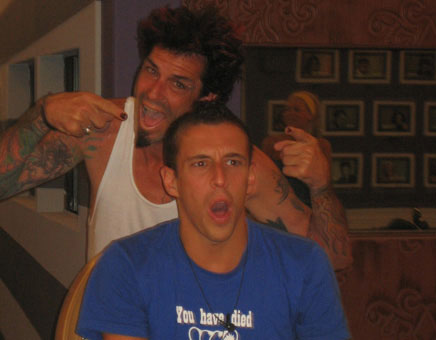 United States
August 7, 2007 9:06pm CST
Stop reading if you haven't seen it. Ok is anyone else getting tired of this same old sitution? I sure am,for the last 3 weeks it's the same,Jen gets off the block,that person gets voted out and Kail and Jen both get to stay. I liked Dani and Evil at first but now I am starting to get tired of their reign of power! I mean common do they really think Jen and Kail are going to help them out over themselves? I don't know I want to think Eric is ok but after that talk Jessica had with Jen I am not so sure. Jessica is so dumb if she believes anything Jen says but hey BB is like that. What are your thoughts on tonight's show?
5 responses

• United States
8 Aug 07
I am tired of Evil shooting off his mouth every two seconds at everyone. He thinks he is the top dog, I used to like him, but I am so getting tired of his acting out. I still actually like Dani quite a bit though, she is growing on me still. I really hope though they get their acts together and get out Kail instead of Eric. I don't think Jessica believes Jen, she did for a short time, but now I think she knows Jen is just trying to save her time.

• United States
8 Aug 07
I agree I liked Evil and if he would calm down a bit I still would like him,Danielle is failing to see how her Dad's acts reflect badly on her. I think Eric is out Danielle and Evil won't change their minds and right now Jessica is the deciding vote,I think Dustin,Amber,and Jameka are all going to vote Kail out so it's up to Jessica to make or break Eric's stay in the house.

• Canada
8 Aug 07
Well I for one am sick of the 2 of them still being int he darn house LOL I don't think its going to work the way Dani and Evil want it to. There's too many of the house guests wanting to keep Eric. And I have to say its abotu time the house splits. They need to do what they think is best for themselves not for everyone else ya know. I can't wait for thurdays show WOOHOO!!!

• United States
8 Aug 07
I agree with you on that for sure. It's time to change things up in the BB house and I so hope kail gets the boot so Evil and Dani will finally see they don't run things in the house,Kail needed that and she got it! So now it is there turn.

• United States
8 Aug 07
I like Evil, but he is starting to get a little annoying. I think he needs to shut his mouth a little. But other then that, I like him. I like the fact that he hasn't really lied yet and he is honest and I like that in him. I just hate the fact that he has to keep picking and picking and making the fight bigger. But he is playing for money, so I guess you got to do what you got to do. As for tonights show, well, I really don't know what to say. I can't wait to see who goes next. A part of me wants Eric gone, but then a part of me wants him to stick around.

• United States
8 Aug 07
I have been sticking up for Evil in every discussion I start because I have liked the guy too,but he needs to back off just a little. And Danielle is starting to go down with him. I really think Eric is out,know that jessica is starting to believe Jen.

• United States
8 Aug 07
i felt really bad for eric the way evil keeps jumping all over him. i can't believe jessica would believe what jen was saying. especially after jen was caught lying about nick trying to kiss her and the way she was when she had hoh. i have a bad feeling that eric is going home. i would like to see kail go. it sucks that jen was able to take herself off yet again. oh well maybe next week lol. can't wait to see who gets hoh this time.

• United States
8 Aug 07
Jessica should know better she hates Jen I just hope she sees what's really going on and votes Kail out. I feel so bad for Jameka she can't play for HOH for 5 weeks. Not good

• Orangeville, Ontario
8 Aug 07
I think this is the meanest season of BB ever. I hate E.D. Yeah, he lets everything out in the open but he is just mean and nasty about it to everyone. I was actually hoping he would hit Eric (I know he wanted to) so that BB would pull him out of the house. Then we would see Daniele wail some more. Geesh! Why is she crying over someone voting AGAINST Nick leaving? She wanted Nick to stay, she voted for Nick to go. What is her problem? Her problem is she is listening too much to dear ol' dad who really ain't so dear. Perhaps Eric can get back in Jessica and Jen's good graces by flattering one of them, if America chooses one of them to flatter. Let's face it, America (North America - this Canadian is voting) has not exactly been helping Eric play this game. I think that is probably because there are friends and family of members of the house who are working against him. I hope they vote Kail out and then whoever gets HOH next week puts up both Daniele and E.D. and let them know how it feels! I used to hate it when people were sneaking around, but I think I liked it better then. This way is just plain awful.

• United States
8 Aug 07
I am starting to see your point of view Evil is just going to far to often and I mean come on we need to start changing things up or BB will be losing alot of veiwers I know I am so tired of seeing the same thing over and over again!