computers makes us LAZY or FAST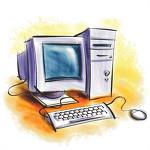 3 responses


•
16 Aug 07
yes dear i do agree with you there are both sides of computers i.e. positive and negative and it depends on you that which side you wanna use. thanx for your reply.

•
19 Aug 07
yes yes u r absolutely right there are both types of people . computers can do work faster which have both type of impact in our life it also makes us work faster as well as can makes us lazy so choice is yours what do u think............ thanx for ur response


• United States
17 Aug 07
Sorry, but I must disagree with you there. I've yet to come across a computer that can clean out the bath tub or take out the garbage. Even cleaning the kitchen floor is beyond the computer, I don't think that little Rumba robot thingie is up to the challenge, and certainly not for $300+ dollars! * Are computers useful at calculating math at higher speeds than their Human owners? Yes they are. But what do you see when you look at a house under construction? Men. Men walking around with pieces of wood, sheet rock, and cement equipped with hammers and nails. * Computers are tools. They will never replace Human minds. Will they speed our work up? Yes. Will that make us lazy? No. That is because we have more work to do than we ever did in the past. The average man or woman works more hours than they did in the past.

•
17 Aug 07
thanx for response. you are 2222222 good dear ur comments are really true. yes i do agree with you but dont you think that we are now over dependent on computers????????