i've been waiting to color my hair,should i stay light or go dark?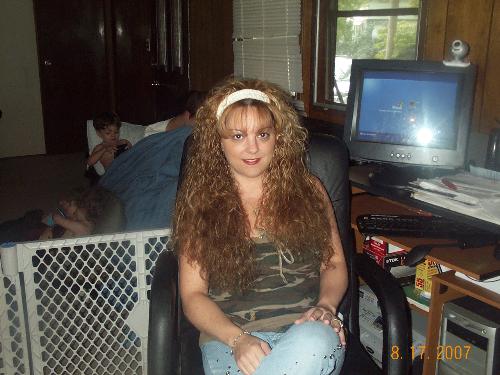 United States
6 responses

• United States
17 Aug 07
You have a lot of hair! I think Dark hair is always better personally, and I'm a natural blonde! But I'd say that it's not bad that color either. i say ask your children, sometimes my mom dyed her hair this really bad colors and I'd always wished she'd gotten my opinion first. ha ha.

• United States
17 Aug 07
yes i do have alot of hair,very curly too.thanks for advice.

• Indonesia
17 Aug 07
Color your hair with darker colors will make them look smaller, so I think its better than to color it lighter, i think your hair is already very light colored. Why don't u try to have a total makeover on your hair, maybe cut it a little, or straightened it a little or something..it's fun u know! Have fun at the salon!

• United States
17 Aug 07
well i am gonna cut it alittle, and i can blow it out very straight,i just didnt know which color i want this time.im lucky though because i can do all this myself being a hair dresser,i wont let anyone else come near my hair lol.so maybe i will give myself a total hair make over.thanks

• United States
17 Aug 07
I like your hair the way it is. Maybe you could add a few more highlites to brighten it up a bit more.

• United States
17 Aug 07
yea i was thinking on that if i decided to stay light.thanks for comment.i am lucky though i can blow dry my hair out so straight and it looks so different.

• Canada
17 Aug 07
I think you should go dark with light highlights.

• United States
17 Aug 07
I don't know about you but I change my color ofter. I love red. However, some times I go darker or lighter red. I even have one color that makes my hair look purple. When I was working my friends they would bet on what color my hair would be next. One fall my hair turned out to be more orange and it matched the colors on the tree outside my work place. I thought that was so funny. My cousin does the same thing with brown. She only changes her's from light to dark. Not so many varying shades like me. My mom is a blond and uses the same color all the time. I think your hair color is a personal choice. However, I do not think I would have several colors at one time. I do not think that would suit me.

• Malaysia
17 Aug 07
I think better you take new hair fashion color, GREY. And you hair saloon to make new hair style...for looking more vibrant in public.