Most Embarrassing Experience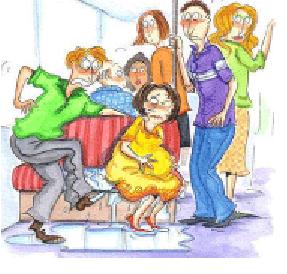 United States
August 21, 2007 1:57pm CST
i know everyone has its most embarrassing experience in life. can you share what's your most embarrassing experience? mine happened when i was still young and like to ride bikes in all close streets at home, when one time i was looking at a cute guy walking in the street then suddenly i hit the post and drop from my bike to the muddy ground .. someone saw that happened so i was really embarrassed. what i did was pretend no one saw me and just jump into my feet and get away there as fast as i can. hehehe.. well, things happen ryt. anyway, i went home and told my close friends at school and they start giggling.. then our conversation starts with what is their most embarrassing experience in life.
3 responses

• Australia
19 Nov 07
Only one well its hard to pick one from so many that I have. I will go with this one. When I was younger I used to wear very high shoes and very short dress and skirts. One day we were going to this Macedonia dance in a recepton hall and I was wearing the usuall high shoes and a skirt as we walked in (and as usuall when someone walks in everyone i looking that way to see who is coming what is wearing) I looked up and didnt notice this very small step (probably only 10cm high) so I lost balance and fell on the floor. I wanted to turned back and go home. Everyone saw in details what I was wearing. I did not get up to dance or anything all night.

• United States
25 Sep 07
Well it wasn't my most embarrassing moment, I don't know if I can remember anything actually, but today I tripped and almost fell at college today.

• United States
22 Aug 07
Mine was in a rainy day, huge rain water flooded on road, I walked from Market to Home and suddenly splipt to drain and my clothes was dirty by drain mud - I just closed my umbrella and washed away all dirty mud with rain water and reached home so none could detected that I sliped inside drain.