Who do you think will win the Triple Threat at this Sunday's Summerslam?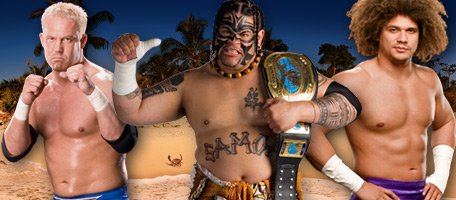 August 22, 2007 9:55am CST
Who do you think will win?I Personally think out of Carlito, Umaga and Kennedy, I can see them pushing Kennedy as the Intercontinental Champion, as he has hafd one Championship - the US as the others have had 2 each. Although Umaga may be the favourite in terms of strength, I see Kennedy and Carlito teaming up, to try and take him down, and then Kennedy turning on Carlito, what do you think?
2 responses

• India
22 Aug 07
I think Umaga would be too much for both Kennedy and Carlito even if they team up. So I guess Umaga would win the match. But, then in WWE you never know, maybe a few chair shots would take out Umaga and Carlito or Kennedy might just steal the result!! Cheers! Ram

• United States
22 Aug 07
I agree, I think it will be Umaga, but as you said with the WWE you can never tell what will happen.

• United States
22 Aug 07
I think umaga will win for a few reasons. He just turned face and it would be stupid for him to loose right after he just turned face would kind of take away that unstobale gimmick. I dont think mr kenedy will win because he is vince probally will be his illitagite sp child and I dont think there going to want him to be ic just yet so I am 90 percent sure that umaga will walk out victorious at this years summerslam.