Socks

United States
6 responses

•
2 Sep 07
double pointed needles are necessary to making socks. I have been knitting for most of my life but this year I have been making scarfs and beanies to send to mongolia but am having problem because I drop stitches with the double pointed needles so I need help also but do know that with socks and beanies at least for the toes double points are a must

• United States
31 Aug 07
michaeldadona gave an excellent answer. If the pattern is confusing, just follow if exactly until you can see what it's doing. Is there some particular part of the pattern that you don't understand? I've never used circular needles to make socks, but I don't see why you couldn't.

• Malaysia
31 Aug 07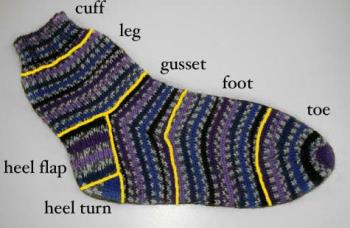 Here's the secret: Socks are easy. Trust the pattern and it will work. The worst that can happen is we rip and try again. http://www.socknitters.com is a valuable resource. Check it out, even if you're already an expert sock knitter. If you're having trouble working with sock weight yarn on size 1 or 2 needles then practice -- cast on 20 stitches and knit a miniature garter stitch swatch until you feel comfortable with the consistency of the stitches. When you're done rip out the yarn and start your sock. There are also basic patterns available online (such as "Joan's Socks") that use worsted weight yarn and larger needles to make thicker socks, something like that would be a good sock to start on. If double-pointed needles are a headache then practice with thicker yarn. Make a hat or circular bag on dpns to train your fingers. Switch to wood dpns if the yarn is too slippery for the slicker needles. Alternatively, you can knit your socks on two circular needles or one long circular, there is no law saying that socks must be knit on dpns (the end result is the same). I learned how to knit socks after borrowing the XRX Socks Socks Socks book from the library. In the front of the book there is a small "try this first" basic sock — with illustrations showing each step — that is very quick to make in worsted weight yarn from your stash. Since it's a test run you don't need to worry about gauge. After knocking out the small basic sock in no time you'll have the confidence to knit a larger adult sock at a smaller gauge. I did the sampler sock using two circulars, even though the pattern is written for dpns. Cat Bordi's Socks Soar on Two Circulars is the only book I know of that is dedicated entirely to knitting socks on two circular needles. All the patterns in the book are written with this technique in mind. However, you do not need this book in order to use the technique. If you prefer to work with two circulars then it's simple enough to use any sock pattern written in the traditional manner for dpns because the only thing that changes is the # of needles you're working with. Having said that, it is a good book and if you'd feel better about working from a pattern that doesn't assume you're using dpns then buy it and use the patterns until you feel comfortable with the technique. Scroll down to the bottom of this page to see easy written instructions for kitchener grafting the toe closed. Maybe you have questions about picking up the gusset stitches. I prefer the look of picking up the sts through both edge loops rather than one edge loop. This page will show you how to do both so you can experiment and see which you like best: http://community.webshots.com/album/45033506kaZZWp I did not take the wonderful photos at the above link, they don't belong to me. Look here for an amazing number of free sock patterns: http://home.teleport.com/~noelvn/socks/categories.html http://www.socknitters.com/sockpatterns/sockpatterns.htm

• United States
11 Oct 07
Hello sca1066. I, too, was intimidated about the socks thing. The first thing I did was get a good set of double-pointed needles (bamboo ones are best, they don't slip out like the metal ones) in a size called for from a simple sock pattern. Pick ones that are rating as "easy". Next, I practiced just on knitting round and round on the double pointed needles. And it was hard at first. But with just a little bit of practice, you'll be surprised that you will get the hang of it. After I felt more confident about it, I began following the simple pattern. And they turned out. Now, my sock definitely was not perfect, but at least, I did it. One complicating factor I deal with is that I am left-handed, which means the directions don't always turn out for patterns that have uneven sides. Anyway, just try it out. And check out knitting websites that show you how to do it. Knit on! PearlGrace

• United States
13 Oct 11
i love to knit but i have never tried to knit socks but they are on the list of all the things i would like to try to knit when i try to knit something new i do not read any kind of instructions that tries to tell you how to go about knitting that particular project i just get myself confused i just wing it i picture what i want the finished product to look like in my head and i make up the stitches and the pattern as i go along i did this when i decided to knit a sweater for myself and it turned out really good

• United States
16 Oct 07
The first sock I made was a Christmas stocking... I used dbl points, and worsted weight yarn. It was easy to follow the directions and see what I was doing at that gauge... and it is a BIG sock! Once I finished that, going back to the finer yarn was simple.