Please help me name my new babies!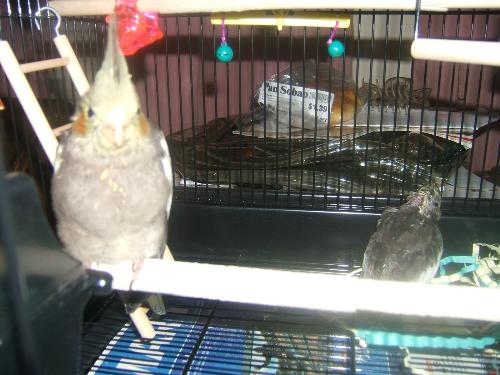 United States
August 31, 2007 6:50pm CST
While I'm waiting to get the dog that I really want I adopted two baby cockatiels today. I am the type of person who is not happy without pets in my life. I have to have someone to take care of and keep me company. These two babies are less than two months old and the smaller one is still being hand fed! The owner was going to just let them lose somewhere because she couldn't get anyone to take them since their so young and she just doesn't want to care for them any more. That's all I needed to hear! Luckily today was pay day so I ran out and got a cage with all the trimmings for the little girls and here I sit talking to them...lol! Now the problem is I don't have names for them! They both seem to be girls but I would like to name them something that is unisex...just in case (like they would know...lol). So put your thinking caps on and help me come up with two names for my new babies!
9 responses

• United States
1 Sep 07
I gave this a lot of thought, ctry, and, never having owned birds myself, I tried to come up with a couple of nice names. I decided on Evian and Chichi. Don't ask me why because I couldn't tell you. I wish you all the best with your birds no matter what you choose to name them.

• United States
1 Sep 07
Evian is a little too exotic for me but I like chici...one of my daughters nicknames is cece....pretty close huh? maybe I'll name one cece! lol!

• United States
1 Sep 07
I used to have birds too, one I had named Chippy, another Cheeky, and yet another, Cisco. But here's is some help...can you believe it?..Out of curiosity I wanted to find out if there was a website that has names for birds, and sure enough there is..It gives a ton of names, so it's just a question of picking which ones you like Here is the link http://www.birdbytes.com/names16.html

• United States
1 Sep 07
Would you believe that's the third site I was given? Who would have thought. I like chippy, cisco I won't use for personal reasons and cheeky is sort of cute considering they have orange cheeks.

•
1 Sep 07
Oh the one is cute, I can't see the other one very well in that pic. Ok here is my donation of names, but I am terrible with this, but unisex I would say, Kelly and Rae. See I told you I wasn't very good with this stuff, LOL.

• United States
1 Sep 07
Good try but uhhh...lol....I know people by those names and I never did like them! lol!

• United States
1 Sep 07
Well, they are very cute. How about Birdie, Feathers, Fluffy, Flighty, Snippy, or Chirpy? I've never had a pet bird, so I can't give you any of my past bird names. This is the best I can do at short notice. Take care, and good luck naming your babies. Let me know what names you decide on.

• United States
1 Sep 07
I like birdie and feathers. Snippy has a sort of bad idea to it. I don't want her to be "snippy"...lol! Chirpy is cute too. I will definitely let you know what I decide on.

•
1 Sep 07
You can name them coo and dee

• United States
1 Sep 07
Usually, when you want birds to be able to "remember" their names they are supposed to have two syllables. But those are cute names.

• United States
12 Sep 07
Wow, this is tough! I usually pick names that mean something to me personally. For example, my id here is twoey. That is actually the of one of our cats that passed away. I got the name from the nickname for the man eating plant in the movie Little Shop of Horrors. Our cat now is named Morgana...I got that name from the movie Elvira, after her late great-aunt Morgana. Sometimes a name will grab my attention. Another way I pick a name is like this. I think of birds...I associate singing, flying and colors with them...maybe I'd name my birds something like songbird, freedom, winds, happiness, sunshine...the fun part of naming a pet is it can be anything you want. AT PEACE WITHIN ~~STAND STRONG IN YOUR BELIEFS~~

• United States
12 Sep 07
I love the name Morgana...it's very different for a pet. I ended up naming him Mookey because it's just something I call almost any animal I met.

• United States
1 Sep 07
Oh you are so lucky, I love cockatiels, I use to have two of them years ago a male and a female and I named them, the female was Holly and the male was Wreath good luck in choosing a name they are so much fun to have, my female was my pride and joy and done everything with me I even took her in the car for rides she loved it. enjoy them. Hugs!

• United States
1 Sep 07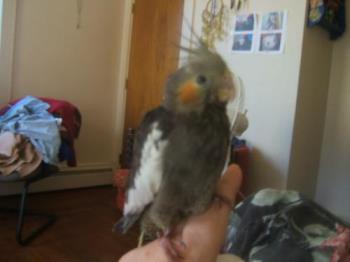 I've had cockatiels before and know what a joy they are. Unfortunately I lost one this morning and hope my Hope...as I named her...will be ok!

• United States
4 Sep 07
Have to tell you this! I've changed Hope's name to Mookey because I found out she is a he! lol...and he's doing great!

• Australia
1 Sep 07
i know what you mean by needing pets in your life, they just bring so much love and life to you. im shocking for names, i had a budgie and i always thought it was a he, and named him bugger because he made a real mess when i first got him and he was out (flew behind a cupboard and yeah moved everything out to get him out and he just chewed everything lol) i know with budgies you tell the gender by their beaks, brown beek is a girl and a blue is a boy (i think that way) and im not sure if other birds are the same. sorry im cant help with the names, maybe look at them and something that reminds you of them or something they can do.

• United States
1 Sep 07
I once had two very small birds....not budgies but I can't remember the name right now but they were so small that one of them caught his head between the bars of the cage. That was the end of my getting small birds.

• Indonesia
1 Sep 07
hahaha... i love dog how if..coko $ coki it mean chocolate. :) i had one before. wakakak...