What do you think is this season't best signup?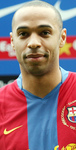 Romania
September 7, 2007 1:12pm CST
While the big clubs are preparing the next season, choose the best signup of the summer. Make your choise among the following players. If, however, the player you'd like to choose is not on this list, feel free to add one. Tevez to Manchester United Pepe to Real Madrid Alexandre Pato to AC Milan Vicenzo Iaquinta to Juventus Jorge Andrade to Juventus Cristian Chivu to Internazionale David Suazo to Internazionale Luca Toni to Bayern Franck Ribery to Bayern Drenthe to Bayern Wesley Sneijder to Real Madrid Arjen Robben to Real Madrid Nani to Manchester United Anderson to Manchester United Babel to Liverpool Fernando Torres to Liverpool Florent Malouda to Chelsea Simao Sabrossa to Atletico Reyes to Atletico Thierry Henry to Barcelona Miroslav Klose to Bayern. My vote goes to Henry. I think he'll have a great season at Barcelona.
5 responses

• India
8 Sep 07
If you look at impact, I believe the Torres move to Liverpool would have the max impact. The others who would be close would be Tevez and Hargreaves at Man U. But, if you ask for value buy, then I think getting Pizzaro on free transfer might be a big value buy for Chelsea!! Henry was a costly buy for Barcelona and I do not think that he adds too much more to the already talented Barcelona team, so I guess he is not such a great buy!! Cheers! Ram

• Pakistan
14 Apr 08
I think best signups of this season are: Henry to Barcelona Torres to Liverpool Toni to Munich I really like these three players a lot. Barcelona is best for Henry and Toni is best for Munich. But liverpool is not best club for Torres. Torres should signup atleast Chelsea or Man united. Liverpool is poor club I don't like it.


• Singapore
11 Sep 07
Well i think Newcastle signning of Mark Viduka is the vaule buy !! FREE