Am I OLD??? Moving from Aunt to Great-Aunt

United States
September 18, 2007 11:12am CST
I am too young to have the term Great on my name. One of my nieces is due in a few weeks and I don't know about her, but I am not ready to become Great anything. She is not too young, she will be 21 in a couple of months and has been married for over a year now. I think they will be great parents. I guess the day was bound to come, my first niece was born when I was 13 (and she isn't the one having the baby). I think that I will just be Auntie. Other than making me feel old, as far as our family goes the timing is great, my dd (the last grand child of my parents) is just about to turn 5 so is truely out of the baby stage and a couple of my sisters were starting to go thru baby withdrawl. Anyone out there also too young for thier title (grandma, grandpa, any other greats)?
6 responses

•
9 Oct 07
I am also probably a little young(or at least when it started!) to be Grandma(
@35
), and Great Aunt, but can only also remark that I had my first child
@
17, thereby perpetuating the sequence of events! However, as time has passed, I couldn't be prouder of ALL of my grandchildren; neices, nephews, great neices and nephews and all of those yet to be produced. Personally, I think the word GREAT is perfect for this state of being, and can appreciate the opportunity to see all of these wondrous children mature into beautiful people while I'm still young enough to remember it all!


• United States
30 Sep 07
I think its a privilege to live long enough to become a "great" aunt or great grandmother, etc. People die too soon in this world and I think you should be honored to be a great aunt. Be proud about it!! Congrats!!

• United States
26 Sep 07
well i dont have anything like that in my title. however, on the other hand, i made others have that title. my fiance and i have been together for over six years and he had one child before i came along and now we have two. I made all of my aunts and uncles great aunts and uncles before they were grandparents, even tho i am younger than most of them.. i also made my grandma a great grandma!! My one aunt gave me sh** because i made her a great aunt before she was a grandma, but that was coming quite quickly.. But it's fun... I love it - i'm sure you'll love it too... good luck

• Orangeville, Ontario
19 Sep 07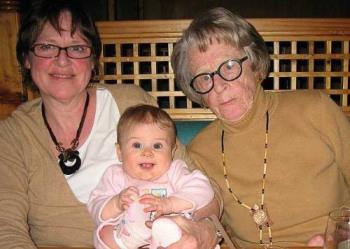 Goodness! I don't think age has anything to do with it really, I mean as far as getting old. I was 10 years old when I first became an aunt. I became a great aunt about 12 years ago (as you, not with my first niece but my second). I became a great-aunt again last summer and will again next spring. I am the youngest in my family and my oldest brother was 15 years older than me. There is a big generation gap there. But here's an even closer relationship. My mother's sister had a baby around the same time that her eldest son had his first child. Yes, that means that aunt and niece grew up together. I actually think that once you are finished having children, you start looking forward to being a grandparent. Now my daughter is 14 and I certainly don't expect her to be making me a grandmother anytime soon, but as I see my brothers and sisters become grandparents I look forward to my time. Unfortunately I don't believe my mother will be around to see it but she does have great-grandchildren she is enjoying right now.

• United States
18 Sep 07
Well now that I think of it, I'm a great aunt too. By marriage anyway. My DH's niece had twins a few years ago when I was about 34. Never gave it much thought as they just call me aunt and not great aunt or anything. I don't think that you being a great aunt makes you old at ALL! It's just the timing of it all that makes you a young great aunt. They'll probably just call you auntie anyway. My aunt is a great aunt now that my brother has kids and they call her Grantie Rose instead of Auntie Rose. It's kind of cute and people outside of the family don't get it. But it does give her a special kind of name for being the great aunt and not just the aunt.