Which one do you use:Laundry powder or liquid laundry soap?

Canada
September 19, 2007 8:40am CST
What kind of smell do you like for a fabric freshner?Do you use the same fabric sheet more than once or just for a single use time?I recently switched to the liquid because i found the powder did not dissolve enough and ended up leaving smudge spots on the clothing.:)
8 responses

• Canada
19 Sep 07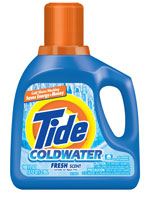 I too found that laundry powder leaves smudges on clothes so I have been a very faithful Cold Water Tide user for 3 years now! I also like that it is specifically for cold water so we're not wasting extra energy to heat up the water, keeps the gas bill a lot lower too! As for dryer sheets, I only use them once.

• Canada
19 Sep 07
Hi!I just switched last week to the liquid one.There was abig special at the store and bought like 6 jugs,i thought i would wash my boyfriends greasy work clothes with it and i love it now!I dont know why i never tried it before.I will never change back to the powder again.I will try the tide on you mentioned because it washes in cold water which we like to save energy.:):)

• Canada
21 Sep 07
I absolutely love Cold Water Tide! It is all I use and have used for a few years now. Plus it is always great to save energy and save a little cash if you can too!

• United States
19 Sep 07
I use liquid because of the clumping withthe powder also I think the liquid smells better, I also use the sheets for fabric softner in the washer instead of liquid. I love a fresh clean scent but i try to use lavander if I can find it.

• Canada
19 Sep 07
Ah ya?So when its done washing,you just throw a fabric sheet in the washmachine like that?Never thought of that!Lavender smells good.I dont like the ones that smell vanilla,too much odour.:)

• Philippines
23 Sep 07
Hi there, what's been up to lately buddy? Well i am not doing the Laundry weekly but i like the smell of Fabric Softener that my mom using whenever she do the laundry. Have a nice day ahead and happy posting and earning here in myLot. Godspeed, Kiko

• Canada
24 Sep 07
Oh!!!You dont do your laundry then i think!LOL.Just teasing.:):)


• Canada
23 Sep 07
Exactly right!The liquid does cost more and the powder lasts longer meaning more loads can be washed.I sneeze every time i use the powder one.LOL:)

• Australia
21 Sep 07
I use the powder as I find it cleans better I use less and saves me money. If I put the right amount of clothes it melts (or dessolces) great so it was a case of trial and error so now i know how much to put. I use fabric soft as I find my clothes smell great and are much softer. I like green apple and jasmin in fact I like all but lavender (I am sick and tired of that smell as my mum used to buy everything lavender)

• Canada
21 Sep 07
Lavender,i dislike the aroma of it.It hits my nose too hard.Just like anything that smells like vanilla.Wowie!!I cant stand that one.Its like dousing yourself in the vanilla liquid for cooking cakes and that.:)

• United States
19 Sep 07
I use liquid laundry soap. Tide or Cheer are the only ones that I can use because my son is alergic to many others. I also use Downey instead of fabric sheets. I love the way my clothes smell and how soft they are after washing them.

• Canada
20 Sep 07
My daughter is too.Ive been trying alot of different ones and finally found one that does not aggravate her excema.Sometimes i do a load of just mine with a smelly one.:)

• United States
19 Sep 07
I've always used the liquid tide with freebreeze it makes my cloths smell great and I don't have to use alot either to get them clean.. The powder stuff I used once and actually threw the rest of it away.. It didn't do anything to my cloths beside make a big mess...

• Canada
19 Sep 07
Oh i loveeeeeeeee the smell of febreeze!!Im like a febreeze addict!lol.I would love to use this but since my daughters skin is sensitive i cannot.I dislike the powder stuff now since i switched to the liquid one.The powder that i had left,i used it on my boyfriends work clothes to wash.One way of getting rid of the box!LOL:)

• United States
19 Sep 07
I prefer to use the laundry powder; I don't know why. I guess I'm old fashioned, even though I'm only 18 :). I don't really use fabric freshener, which I know is probably not the best thing, but oh well lol.

• Canada
19 Sep 07
Your not oldfashioned at all!lol.Its just something that you like and prefer using.I dont even use fabric freshner sometimes.lol.:)