Coconut oil - is it bad for you?

Jamaica
September 27, 2007 12:03pm CST
I dont recall who wanted an answer to this question but this information was emailed to me today and I had to share it with the family. I was told quite often that saturated fats were not good for my health. However, Mike Creary has just advised tht sturated fats are indeed the best fats to be consumed. He further stated that tropical oils such as palm and coconut oils are best for cooking and that natrual fats not margarine is one of the best fats for cooking. Who would have thunked! Check out his site at http://TruthAboutAbs.com.
5 responses

• India
27 Sep 07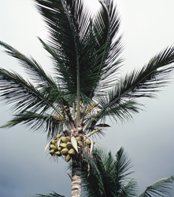 Hi Sharon! If you search Mercola.com, you'll see quite a lot of articles that detail the near-miraculous benefits of coconut oil, supported by numerous research studies. It is also said unsaturated fats are the ones you should ban from your diet, not naturally pure coconut oil, which is a better alternative because it contains very few fats with highly perishable double bonds and also has NO TRANS-FATS. The Advantages listed are as under 1)Promoting heart health ... 2)Medium-chain fatty acids (MCFAs)in coconut oil can actually help stimulate your body's metabolism, leading to weight loss. 3)Supporting your immune system health ... 4)Components of coconut oil have been found to have remarkable physiological effects. 5)Providing an immediate energy source for you ... 6)Helping to keep your skin healthy and youthful looking ... 7)MCFAs in Coconut oil can enhance physical or athletic performance 8)Supporting the proper functioning of your thyroid gland ... The list of benefits are long. For more details visit www.coconutoil.com

• Jamaica
28 Sep 07
Thanks. I never doubted the good use of coconut oil for one moment. I grow up these things. We roast coconut and eat it with roasted corn or only with sugar. When the parents are making toto we eat the grated coconut with sugar even though we were told many times that we would develop belly aches. These things were our joy and pleasure. Its only during adulthood I have heard that it was not good for us but this is what we knew as oil to be cooked with. I remember some years gone by Jamaica was getting our coconuts and oils returned. I felt unhappy about it because i knew that our people did try to adhere to their policies and then it started surfacing that coconut oil was not good for human consumption. If anything I beleive it has helped out immune system here in Jamaica. There is also several remedies for sickness that this oil is used for.

• Philippines
28 Sep 07
Coconut oil is one of the best oil in the whole world. Right now, Virgin Coconut Oil (VCO) is making a rage both here in my country and abroad. The process should eliminate the use of extreme heat to extract the oil. Again, it must be in the VCO form, inorder the maximum good effects of coconut.


• Canada
5 Nov 07
I do think natural fats are better. We use olive oil, and have not bought any palm or coconut oil because of the cost factor. If you live in a warmer climate, you may be able to get these with no trouble cost wise. I do not think that margarine is good for you, even the so called non trans fat kind because they may not consider any trans fat under a certain point as registering. However I heard that the effect is cumulative. Up here in Canada, we have natural oils such as canola oil, safflower oil, corn oil, as well as the more expensive type and butter, the latter that was given a bad name. Anything natural is best for your body.

• India
19 Oct 07
You can believe coconut oil hundred percent.I am from kerala state(South India) and our state is the largest producer of coconut in India.We got some connection with coconut.In our language kera means coconut.For us coconut is a main ingredient in all the food items we prepare.We use coconut for making curries and other food items.For so many years we are using coconut oil for making food.I think it is one of the best natural oil available in the world.For making all ayurvedic medicine,it is one of the main ingredients and it can also used as a good hair oil.It is good for dandruff treatment.It can kill bacterias.Now people are slowly understanding the medicinal value of this magic oil and start using it.Some lobby is working against the usage of coconut oil and creating confusion amoung people.If we aware the people about the good thing in using this oil,i think every one will start using it.

• Jamaica
19 Oct 07
I thought so too. I grew up using coconut oil. We made it ourelves and I have promised my daughter to teach her the process too. It is so good for the skin. My parents never used Johnson's baby oil on us and all her children have clean beautiful skin. I believe someoen is indeed lobbying against the usage of coconut oil. thanks for the additional info.

• India
28 Sep 07
You know Sharon, before all this mumbo-jumbo of science and medicine cluttered our lives and thought process, our moms & grandmoms and people before them know what was best and what not. That's why you will find each region on this world has its unique food habit and style and all of these are definitely beneficial to the health. Regarding oil, the latest fad is olive oil. Sunflower oil, corn oil and such and these are fast catching on here in India too. However, all the above are not indigenous to my nation and are quite expensive as most of these are imported and irregular media of cooking. So basically they have become status symbols for the rich kitchens. But for ordinary people like us, we have been using mustard oil, groundnut oil and coconut oil for ages. Our forefathers (since there is no such term as foremothers…we should have one though), used these oils as the medium of cooking throughout kitchens in India and they have shown to have no negatives effects as such. Too much of anything is definitely bad and this goes for every kind of food. We also have a tradition of cooking in pure ghee i.e. clarified butter from cow's / buffalo's milk and though consumption of ghee has lessened these days, I believe that pure ghee also has its beneficial effect on our system. So basically our families knew all along what they were eating and how it affected the body. Its only the recent 'discoveries & re-discoveries' of science that is confusing us so much!

• Jamaica
28 Sep 07
One of my coworkers is on a diet and was told by her nutritionist that to cook with coconut oil would increase her cholesterol level. Anyway we both decided to do a research and I found an article that told us coconut oil was indeed one of the best oils to use. Here in Jamaica I used to help my mother and my grandmother to prepare the oil from the coconut. When the oil is boiled and tried down we used to eat the "custard" with bread or whatever we found to be handy. All of us we never sick during and hardly become sill during adulthood except for me who was asthmatic from birth. My mother even told us that coconut oil was there lotion in here school days and hair oil too! So when I saw the question on mylot I thought that I would give the answer here because I did not remember who asked the question.